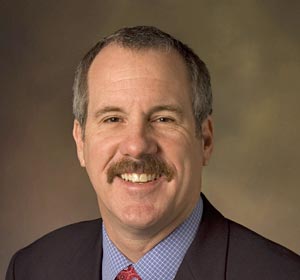 Some accounts are coming in from the new L.A. Times executive editor Russ Stanton's speech to the newsroom today.
One editor wrote to Media Mob: "It was subdued, receptive but kind of calm. which i think is reassuring. he is not an electric speaker, read from a prepared speech, but it was defeinitely well received, he hit all the right notes. I found it refreshingly ego-free, and his nervousness was kind of touching."
Another: "people at this place pretty much respond the same to everything …show up and politely applaud…"
UPDATE: The L.A. Times has put up the transcript of Russ Stanton's speech to the newsroom. He spoke about turnover in the industry, which has resulted in the loss of three editors at the paper in less than three years–all in response to layoffs and a shriking budget. "I have grown tired and am now hopping mad over this seemingly endless 'Groundhog Day' nightmare. And that is why I decided to take this job. We in the newsroom need to figure out how to break this self-defeating cycle before it does indeed result in our defeat. Our strategy of fight-lose-shrink is not working."
He mentioned that the newsroom and the web-team at the paper needed to work together. "Our two newsrooms need to – and will — become one. And the people in them need to better understand and work with each other. We must be smart about how we carry out this merger of operations, recognizing the unique traits of each medium. We also must expand and improve the education and training of both staffs, and plans are in the works to do just that."