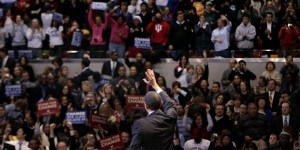 BALTIMORE—Barack Obama is due to speak here at the downtown 1st Mariner Arena shortly, and he has already succeeded in drawing yet another massive crowd.
The scene outside the venue at 2 p.m., 45 minutes before doors were due to open, was beyond anything I saw even in the feverish days before the New Hampshire and South Carolina primaries. A line five– and six-people broad, shivering in the cold, was wending its way almost entirely around the arena.
The capacity of the venue here is estimated at around 13,000 and, although the very highest tier of seating remains largely empty, the rest of the arena is almost packed.
This is not Obama's only event in the state before tomorrow's primary. He spoke in College Park, Md. earlier this afternoon.
The ability of the media to talk to audience members is severly constricted at the moment, as the press is confined to the floor of the arena and separated by barriers from the rest of the crowd.
Security also remains tight, as is now customary at Obama events, with a conspicuous police and Secret Service presence, and sniffer dogs also in evidence.
Baltimore mayor Sheila Dixon has just delivered a brief (and very loud) speech, enjoining the audience to vote for Obama "if we want change in this country."