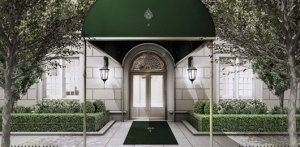 A Milan soccer star is the first named buyer in Trump SoHo.
Mega-homebuilder Robert Toll loses a Third Avenue penthouse–to his son.
The old Stanhope Hotel at 995 Fifth Avenue finally sees its first closed deals.
At least 1,000 New Yorkers annually move to Philadelphia now.
Bruce Mosler, CEO of Cushman & Wakefield, talks bottoming out.
The city sticks it to the Related Companies, wants new theaters to be smaller.
Developers crave more air rights to build big around the High Line.
Eliot Spitzer takes his turn in the Javits Center drama.
Live rock music doesn't pay the rent for more Manhattan clubs.