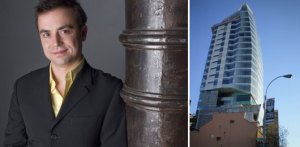 Bruce Ratner buys an Upper East Side townhouse for $6.95 million.
Reps of the late Howard Ronson buy an $11 million penthouse at the Berwind Mansion at 828 Fifth Avenue.
Litigious lawyer Aaron Charney buys an Upper West Side condo for $1.49 million.
Silicon Alley becomes forever a state of mind rather than a physical location.
Forest City Ratner has paid former U.S. Senator Al D'Amato's lobbying firm about $400,000 to lobby on behalf of Atlantic Yards, among other things.
The second round of the GM Building bidding is set for March 6.
Stephen Ross' Related Companies and Steve Roth's Vornado Realty Trust have spent $47 million and counting on a suddenly troubled Moynihan Station.
Cornell plans a new medical tower on York Avenue.
A messy land deal punctuates the rift between Gregory Peck and Matt Moss, the developers of the boutique Cooper Square Hotel.
Foodies Paul Grieco and Marco Canora uncork the economics of New York wine bars.