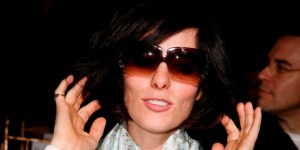 Last night, Parker Posey said she had a cold.
"Can you tell?" the actress asked in an earnest tone. No, we assured her. And it was true. Considering the flight of otherwise red-faced, smooshy-coiffed guests who had just braved a blizzard to attend the New York Academy of Art's Tribeca Ball, Ms. Posey, in her breezy Cynthia Rowley dress, appeared the ravishing exception.
Still, Ms. Posey was in clouds.
"Look at my watery eyes," she insisted, moving her face a couple inches forward to offer a better peek. Sure, her mouth was hanging open in a rather distracting fashion. But her eyes—both of them—appeared to be coated in a healthy amount of fluid.
She sighed and turned to look at a spunky Alan Cuming cheerleading a group of apprehensive guests up several flights of stairs.
The New York Academy of Art's studio spaces, housed in a handsome five-story structure on Franklin St., played an integral role in last night's event. After arriving, guests were encouraged to head directly to a bar on the building's top floor. Drinks in hand, partygoers, who were asked to dress in "bohemian chic," could then wind their way down, stopping off at each level before returning to the ground floor, where dinner and dancing would commence. Each floor had several components of live artistry—from a man in burlesque drag modeling for a few fidgety painters on art horses (floor 5) to a sword swallower swallowing swords next to a student spraying water on his lineup of dwarfish clay figures (floor 2).
One of Ms. Posey's more iconic—and for our purposes, relevant—film roles was as Mary Boone, the New York art dealer and gallerist, in Julian Schnabel's 1996 Basquiat—an engrossing portrait of the titular, tragic artist, Jean-Michel, who was played by Jeffrey Wright. The flesh-and-blood Ms. Boone, as it happened, was also a guest at last night's party: something of an awkward overlap. Indeed, Ms. Posey's portrayal of her was less than flattering, however honest.
"I got to wear Mary's clothes in that movie," the actress recalled, but she seemed to remember little else. When we tried to jog her memory by reciting one of her lines—"Listen, whoever you are, can you please move? We're trying to hang paintings"—she offered a blank stare. "See, I don't even remember that," she said in a way that made us feel slightly precious.
Basquiat was shot, after all, more than a decade ago. And since then, Ms. Posey said, the New York art scene "comes and goes from what I can see. I wish there was more attention towards it. Now it seems there's a lot of attention to fashion," she told us. (Ms. Posey, often called, in turns, a style icon and muse, attended only Ms. Rowley's show during the recent fashion week.)
Perhaps Ms. Posey—who said she is about to begin filming director Mitchell Lichtenstein's next project in which she plays Demi Moore's sister—had noticed the art world moving in a more corporate direction, something hotelier André Balazs, another guest last night, told the Daily Transom at a party following Art Basel Miami.
"I'm too self-absorbed to really notice," she said. "I'm totally joking with you, but I don't really pay that much attention. I love New York, I live here and I have a life here. I go to museums when I can, and I see art.
"I love culture"—she arched her eyebrows excitedly and then, in a transition-free instant, slumped back into apparent ennui—"other than, you know, pop culture."