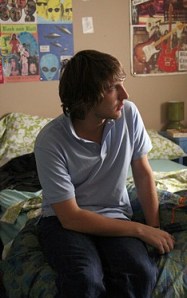 Quarterlife has been yanked from NBC after just one episode, according to Reuters. The MySpace show will video-blog its way to NBC-affiliate Bravo, having netted its time slot's worst ratings in almost 20 years.
No doubt this comes as good news to co-creator Marshall Herskovitz, who played up the show's niche value at a Harvard Business School talk (here). "We live in a media world today where many shows are considered successful on cable networks with audiences that are a fraction of those on the Big Four," he said in a statement after the Bravo announcement. "I'm confident that quarterlife will find the right home on television as well."
After all, Quarterlife's online presence isn't just a series of 36 eight-minute webisodes handily packaged for a lucrative twentysomething demographic. It's also another (sigh) social networking site, a "community for artists, thinkers and do-ers." A community, people! Too bad they couldn't band together to keep a potential cash cow on the air.
No air date has been set for the next episdode.