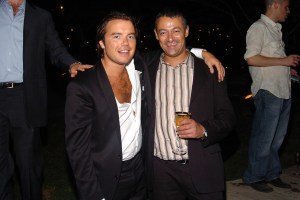 Late this afternoon, Radar editor Maer Roshan announced that the magazine's deputy editor Chris Tennant is out. He'll stay "onboard" as a contributing editor. Here's the memo:
I am sad to announce that Chris will be leaving his position as Deputy Editor of Radar next month to concentrate on his upcoming book and other projects. He will remain onboard as a Contributing Editor and will continue to work closely with Radar in this new role. Dale Hrabi will be stepping in to handle some of Chris's duties on the Incoming section.
As you all know, Chris has been involved with this project from its inception in the early 50s, and has played a critical role in Radar's development and success. I am incredibly grateful for his loyal friendship and wise counsel throughout the many ups and downs of this project. While I'll miss him greatly, I wish him all the best as he embarks on this exciting new phase of his career.
Maer