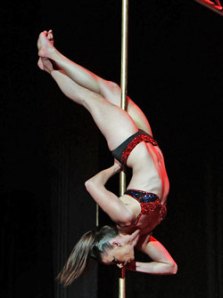 In August, the jovial jiggle-joint promoter Lonnie Hanover quit shilling for scandal-ridden Scores.
Last week, Mr. Hanover, dressed in all black, warmly welcomed members of the press last week to a private cocktail reception at his new venue, Rick's Cabaret at 50 West 33rd Street. "I've finally found a strip club I can be proud of," he joked, though he waved away photographers, thrusting leggy performers to the forefront instead. "I'm not the story—I'm just the guy behind the scenes."
Mr. Hanover said he felt "more comfortable" at the three-level, 10,000-square-foot Rick's, which opened in 2005. He remained mum about his specific reasons for leaving Scores, the iconic Manhattan franchise that he helped build into a national brand, thanks to frequent mentions on Page Six as well as Howard Stern's radio show. "I have taken the high road and not revealed the numerous complaints that I had," Lonnie loyally told the Transom.
His defection after 15 years of faithful service to Scores added another odd chapter to a sad saga that has included executives convicted of tax violations, dancers arrested on prostitution charges and a rotating roster of attorneys fending off litigation—including suits filed by prior Scores lawyers. "They were the No. 1 club in New York for a long time," Rick's CEO Eric Langan said of his rival. "I think Penthouse took a dent out of 'em, I think Hustler's taken a dent, now Rick's is taking a dent. And, along with some of the other problems they've had with the city and whatnot, their business has changed. They've survived the last few years on the tourists. Most of those tourists were brought in from Howard Stern and the rest of the media that Lonnie was able to bring."
Once Scores started having to do "spin control," Mr. Langan swooped in to woo Mr. Hanover with promises of "positive news stories."(Stock in Rick's, a publicly traded Houston-based company with clubs around the country, recently tripled in value. )
"When the Stern show announced that Lonnie left Scores back in August, my phone blew up," Mr. Langan said. "All my friends said, 'You gotta get 'im for Rick's! You gotta get 'im for Rick's!'"
Mr. Hanover, however, took a few months to determine his next career move, traveling across the country to visit various famous flesh facilities. "I had the luxury of being in demand by many strip clubs," he said. "After careful research, I was really impressed by the way Rick's treats its customers and its employees."
During a brief tour enjoyed by the Transom, Mr. Hanover pointed with pride to Rick's curtain-drawn VIP booths—a somewhat cozier form of enclosure than, say, the back rooms at Scores, which, according to police testimony, feature doors that lock.
"I believe my celebrity clientele will be happier here," he said.