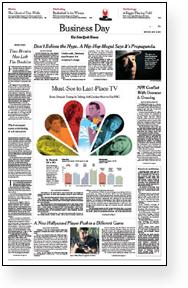 The Times has hired Stephanie Clifford to become their new advertising reporter. Ms. Clifford spent the last three years at Inc. Magazine and before that freelanced for places like Us Weekly and Sports Illustrated Women. She'll replace Louise Story on the beat, who in turn is getting a new—and unannounced—duty on the business desk. Business editor Larry Ingrassia writes in a memo that Ms. Clifford "is eager to work at a newspaper where she can expand her repertoire." Here's the memo:
We are pleased to announce that STEPHANIE CLIFFORD, a senior writer at Inc. magazine, is joining Business Day to cover advertising and marketing.
Stephanie will work closely with advertising columnist Stuart Elliott, taking over the beat now covered by Louise Story, who will soon move to another assignment to be announced shortly.
In her three years at Inc., Stephanie has covered a wide variety of topics. She has written about the travails of small business partnerships, like the falling out of two founders of a gourmet food company, D'Artagnan; about the efforts of an American-trained Turk who returned home to start a technology company with global ambitions; and about an upstart that is using clever, eye-catching design to crack the household products market.
Stephanie, who has worked most of her career in magazines, says she is eager to work at a newspaper where she can expand her repertoire. Before Inc., she worked for Business 2.0 and freelanced for Time, Worth, Us Weekly and Sports Illustrated Women, among others.
Stephanie was executive editor of the Harvard Crimson in 1999-2000, when she graduated with a degree in English, and American Literature and Language. She also coxed on the freshman crew team.
Stephanie lives in the West Village, where she says she indulges in sitting on her stoop whenever she. Having grown up in Seattle, she says she is picky about her coffee and enthusiastic about rain. Her interests include opera, musicals, running, hiking, travel and cooking.
Join us in welcoming Stephanie to The Times. She will start March 24.
Larry Ingrassia & Bruce Headlam