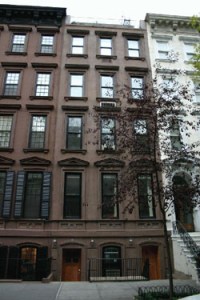 When a Vienna-born orthodontist and developer named Dr. Egon Neustadt died in 1984, he left instructions for his gargantuan collection of Tiffany lamps—one of the biggest in the world—to go to his sleepy Connecticut town, Sherman, where he wanted a museum built.
That sleepy town didn't appreciate the gesture. "We've tried to keep Sherman a secret," the local newspaper publisher said then. "He was in continual litigation with others and myself," another neighbor told The New York Times, "and clearly the purpose of this museum is to harass the community in perpetuity … [T]his is his revenge on the town." Another fretted about putting "a multimillion-dollar museum in the middle of the woods, a half-mile from the lake, in a town with a $30,000-a-year police force."
The late doctor never got his museum, though the Neustadt Collection still exists today. And this month, after nearly 25 years, the collection has finally sold off the townhouse at 128 East 62nd Street where he once kept an apartment. The buyer, according to city records, is a developer with much bigger neighborhood opposition: Bruce Ratner, who is building the $4 billion, 22-acre Atlantic Yards project in downtown Brooklyn.
Mr. Ratner, loathed by Brooklyn brownstone owners who don't want his Atlantic Yards basketball arena (he co-owns the Nets) or gaggle of skyscrapers, spent $6,965,000 for the Upper East Side brownstone, records show. News of the sale was first reported on The Observer's Web site on Monday.
While Mr. Ratner fought for eminent domain to get some of the land for Atlantic Yards, the Neustadt Collection spent decades trying to get their neighbors in the building to leave. As Milton Hassol, the president of the Neustadt Collection explained, the brownstone was split into co-op apartments, some that weren't owned by the doctor. "The process has taken 23 years," he said. "As other people wanted to sell we bought them out. … And then when we got 67 percent interest, we could sell"—according to co-op rules.
Stuart Saft, a real estate lawyer, confirmed to The Observer that the other owners in the building would have had to sell if they were outvoted by the building's main owner.
"They had to by law," Mr. Hassol said, "but people can hold you up and make it difficult—but they cooperated."
According to records, the Neustadt Collection got over $5 million from Mr. Ratner; he paid an owner named Diane Harris $571,130, and another, Charles Nemetz, $1,309,420. The deal was finished less than three weeks after the U.S. Court of Appeals supported Mr. Ratner's right to use eminent domain. "Today's decision is more than another victory for Atlantic Yards," he said then. "It is a victory for public good."