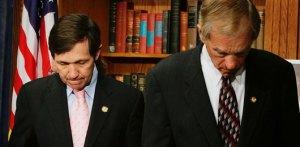 Ron Paul and Dennis Kucinich are both well-positioned for wins in next week's Texas and Ohio primaries. (No, really—think about it.)
Both men stopped actively seeking the presidency a while back in order to defend their seats in the House of Representatives. Their quixotic White House efforts had rendered them potentially vulnerable to charges of neglecting their days jobs and prompted intra-party Congressgional challenges from ambitious local politicians.
Kucinich's main rival is Joe Cimperman, a Cleveland city councilman who has seized on Kucinich's failure to live up to the pledge he made in his 2006 re-election campaign not to run off and seek the presidency again (he also ran in 2004, in case you forgot). Cimperman won the backing of Cleveland's mayor and his candidacy evidently spooked Kucinich, who dropped out of the presidential race in January, rather than seeing it all the way through to the convention as he did in '04.
But a new poll from the Raleigh-based Public Policy Polling shows Kucinich handily beating Cimperman, 55 to 29 percent. The only potentially troubling sign for the incumbent: He trails Cimperman among independents, who are free to vote in Tuesday's primary. A (much) higher than expected independent turnout could tighten the race.
Kucinich's name will also appear on the presidential ballot in Ohio, but the survey found him registering only four percent in his own district, to Hillary Clinton's 55 percent and Barack Obama's 31 percent.
Meanwhile, another Public Policy poll in Texas has Paul routing his Republican congressional challenger, Friendswood Councilman Chris Peden, 63 to 30 percent. Peden has made Paul's libertarian-based assault on some conservative orthodoxies the linchpin of his effort, calculating that the district's Republicans were previously unaware of Paul's strident opposition to the Iraq war, among other issues. ( A primary challenge to one of the House's other Republican war opponents, Wayne Gilchrest of Maryland, was successful on February 12).
In running, Peden may also have been thinking toward the future. Paul will turn 73 this year and Peden is three decades his junior, so the challenger may have improved his positioning for an open seat race in the coming years.
Paul's constituents also seem to think more highly of their congressman's presidential credentials than Kucinich's do: 18 percent of the G.O.P. voters in Texas' 14th District plan to vote for Paul in the presidential race. (John McCain leads in the district with 49 percent, to Mike Huckabee's 27 percent.)
And so it seems that Kucinich and Paul will avoid the fate of Robert Dornan, a fire-breathing conservative congressman from southern California who waged a similarly flighty presidential campaign in 1996. He dropped out after scoring just 529 votes in New Hampshire (about 2,000 behind obscure tire magnate Morry "The Grizz" Taylor) then returned home to save the seat he'd held since 1976. But he lost the general election to Democrat Loretta Sanchez, who lampooned him as a source of embarrassment to the district.