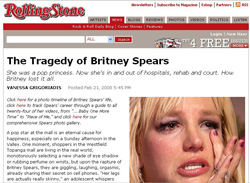 In this week's Observer …
Rolling Stone had its best web traffic week ever thanks to Vanessa Grigoriadis' Britney Spears profile, but the magazine only featured a small bit of the story online. Editor Will Dana tells Choire Sicha: "I think we thought, why post the stuff for free when people buy it?"
John Koblin writes in Off the Record that the Huffington Post is drawing its widest readership in history and is closing the gap with that bare-bones grandpa of political home pages, The Drudge Report.
Also in Off the Record, ex-Portfolio editor Jim Impoco is returning to the New York Times, and the Times is redesigning its A-section.
Leon Neyfakh reports that The London Review of Books is opening its first New York office … in Dumbo. Leon also writes that author Marisha Pessl, fresh off her bestseller, Special Topics in Calamity Physics, is leaving Viking Press for a more lucrative deal at Random House.
Felix Gillette watches Bravo's new series, The Real Housewives of New York City, which prompts a question: Are they MILFs or feminist role models?
And Sara Vikomerson and Spencer Morgan break down the Oscars.