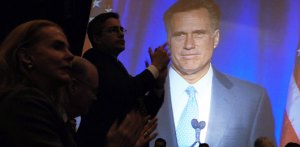 The Log Cabin Republicans just sent out a gleeful email (subject: We Did It!) saying they "led the way" in pushing Mitt Romney out of the G.O.P. race and today "a great day for the Republican Party."
Here's the text of the email:
"Mitt Romney's decision to withdraw from the Presidential race was a smart one. After Super Tuesday, it became clear that Mitt Romney had no chance to win the GOP nomination. Governor Romney ran an aggressive campaign, spending tens of millions of dollars to hide his record and to distort the record of his opponents. In the end, voters did not find this version of Mitt Romney to be credible. Too many voters learned the truth about his record, and that record didn't match his new found conservative rhetoric.
Log Cabin led the way in telling voters the truth about Governor Romney's record. In both Iowa and New Hampshire we ran an aggressive advertising campaign pointing out the litany of Romney flip-flops.
Today is a great day for the Republican Party. Nominating a candidate like Mitt Romney would have been a recipe for disaster in November and would have ensured a White House victory by the Democrats.
Log Cabin is proud to have played an important role in sparing the Party from a nominee like Mitt Romney."