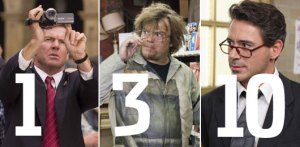 It's a touch ironic that the one weekend when everyone is thinking and talking about movies, no one is actually seeing them. The Academy Awards hoopla has come and gone leaving in its wake a depressed box office with only one true stand out. Vantage Point (No. 1), the Rashomon-like action movie starring Dennis Quaid, Forest Whitaker and Matthew Fox, easily doubled the box office of its closest competitor, Jumper (no. 2), grossing $24 million nationally with 408,000 of those dollars coming locally.
With a $41,000 per-theater average in Manhattan, Point was the only movie to average over $20,000. (In a standard week, there are at least three movies that manage this feat—last week, there were five.) Be Kind Rewind (no. 3) came surprisingly close ($18,870), despite mixed reviews. With the draw of Jack Black, New Line—and maybe even Mr. Black himself, who must be wondering if his own popularity is waning—probably had higher hopes for the comedy. Historically speaking, however, it never had a chance.
Robert Downey, Jr., who used to be able to do no wrong—including ingesting copious amounts of booze and drugs—might be thinking along the lines of Mr. Black after his film, Charlie Bartlett (no. 10), bombed. It averaged a pitiful $7,500 on eight screens. But like Mr. Downey after a decent bender, audiences will emerge from this moribund movie-going period having forgotten all of the movies released in February to die. Sayonara, Bartlett! May we never speak of you again.
And while it may be a foregone conclusion that Witless Protection, a comedy starring Larry the Cable Guy of the Blue Collar Comedy Tour and the catch phrase "git-r-done," wouldn't do well here in the city, the same, sadly, can't be said for the rest of county. But lo and behold, it did just as poorly everywhere else, as it did here, failing to crack either top ten. Maybe Barack Obama's right and there is hope for us after all.
List of theaters: Paris, Zeigfeld, Oprheum, East 85th St., 86th St. East, 84th St., Lincoln Plaza, 62nd and Broadway, Lincoln Square, Magic Johnson, 72nd St East, Cinemas 1, 2 &3rd Ave, 64th and 2nd , Imaginasian, Manhattan Twin, First and 62nd St., Angelika Film Center, Quad, IFC Center, Film Forum, Village East, Village Seven, Cinema Village, Union Square, Essex, Battery Park 11, Sunshine, 34th Street, Empire, E-Walk, Chelsea, 19th Street East, and Kips Bay.
Manhattan Weekend Box Office: How moviegoers in the multiplexes of middle America choose to spend their ten-spot is probably a big deal in Hollywood. But here in Manhattan, the hottest movies aren't always the ones making the big bucks nationwide. Using Nielsen numbers for Manhattan theaters alone and comparing them to the performance of the national weekend box office can tell you a lot about our Blue State sensibilities. Or nothing at all! Each Monday afternoon, we will bring you the results.