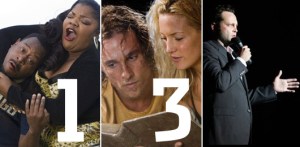 Lesson learned this weekend: Martin Lawrence still has it, while Vince Vaughn doesn't always. Out of five—yes, five—comedies released this weekend, Lawrence's Welcome Home Roscoe Jenkins (No. 1) was easily the fan favorite in Manhattan, out-grossing its closest competition, the Kate Hudson, Matthew McConaughey romantic barnstormer Fool's Gold by over $60,000. (Gold did, however, get the last laugh by claiming more cash nationally.) So, where did Vince Vaughn's stand-up travelogue, Vince Vaughn's Wild West Comedy Show, end up? Well, for starters, not on our top 10.
The movie, reminiscent of Dane Cook's HBO series Tourgasm, was released on 962 screens—it showed on seven here—to dismal results, averaging little over $500 per theater. Since it didn't crack our chart, it's unclear what the specific data is, but since it must have grossed less than Michael Clayton (No. 10) at $70,000, its average in the city must be below the $10,000 watermark, meaning this one is going bye-bye. It's obvious now why, despite its Hollywood pedigree (Jon Favreau deigns to make an appearance!) the documentary was dumped released in February: gotta keep the talent happy. Although Vince was ultimately just trying to help some young comedians, it'd be so money if someone told Vince to stick to the script from now on—unless he promises to come up with more gems like, "You motor-boatin', sonofabitch."
Meanwhile, all national stats point to a solid opening for In Bruges, even though it couldn't crack our top 10 on two screens. In order to do that, it would have had to gross over $35,000, something this small dark comedy, regardless of Colin Farrell and Ralph Fiennes, was never destined to do. Considering the talents of playwright Martin McDonagh (Pillowman), who won an Academy Award for his short film, Six Shooter, this one should be helped by solid word-of-mouth—that is unless it is swallowed up by all of the din surrounding the Oscar nominees.
And R.I.P. Hottie or Nottie. May this be the merciful end of Paris Hilton's acting career, at least as far as the cinema is concerned.
Hannah Montana (No. 6) witnessed a steep drop in its fortunes—even worse than horror fly-by-night The Eye (No. 9)—hemorrhaging close to 72 percent of its first-week gross, though it was able to maintain a reasonably good above-$20,000 average. Those 'tweens are fickle!
List of theaters: Paris, Zeigfeld, Oprheum, East 85th St., 86th St. East, 84th St., Lincoln Plaza, 62nd and Broadway, Lincoln Square, Magic Johnson, 72nd St East, Cinemas 1, 2 &3rd Ave, 64th and 2nd , Imaginasian, Manhattan Twin, First and 62nd St., Angelika Film Center, Quad, IFC Center, Film Forum, Village East, Village Seven, Cinema Village, Union Square, Essex, Battery Park 11, Sunshine, 34th Street, Empire, E-Walk, Chelsea, 19th Street East, and Kips Bay.
Manhattan Weekend Box Office: How moviegoers in the multiplexes of middle America choose to spend their ten-spot is probably a big deal in Hollywood. But here in Manhattan, the hottest movies aren't always the ones making the big bucks nationwide. Using Nielsen numbers for Manhattan theaters alone and comparing them to the performance of the national weekend box office can tell you a lot about our Blue State sensibilities. Or nothing at all! Each Monday afternoon, we will bring you the results.