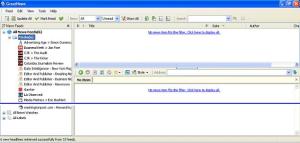 It's President's Day, and it's awfully quiet out there. Here's a screengrab of my RSS newsreader (which collects media news) from a few minutes ago.
Most of the new stuff was from Gawker, and almost none of it was about the media really.
Meanwhile it seems like nobody is at their desks either–phone calls not going so well.
So we are going to make it official for today: There may be reduced posting.