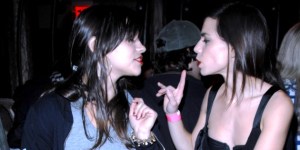 Zena Scharf, the 24-year-old daughter of painter Kenny Scharf, has recently joined fashion photographer Patrick McMullan's staff, where she works in the art department. She said it's a nice place to work: "I've known him my whole life, basically." When we ran into Ms. Scharf, she was on hand to help her pal-cum-boss at a party he was co-hosting on Thursday, Feb. 14, at uptown boutique The Parker. Ms. Scharf, who spent the better half of the evening chatting with co-host Ally Hilfiger, was wearing one of Izzy Gold's gray "Kiss Kiss" T-Shirts over a candy red—it was Valentine's Day!—denim skirt by Dolce & Gabbana. She was also eager to pick up and point at her Chloé shoes.
Of all the things a camera can capture, Ms. Scharf, a Lower East Side native, prefers portraits of people—"but more up close and personal people," she added, taking a page from Julia Roberts' enigmatic character in Mike Nichols' 2004 film, Closer. She went on: "I like portraits in a studio as long as it's just the person and me and the camera, [then] I'm happy." While Mr. McMullan stood a few feet away signing copies of his first book, his adoring apprentice added that she eschews the master's M.O. in favor of black and white photography because, as she put it, "I like film."
Outside of photography, Ms. Sharf's artistic influences include a number of musical acts; she mentioned the English big beat group Groove Armada. Hotel lounge tunes aside, the musical group highest on her list that particular night, she said, was Band of Horses, whom she had just seen perform at the 18th Annual Tibet House Benefit Concert at Carnegie Hall.
When the music is off, her muse is artist Cindy Sherman. "I can't help but love her," she said of the venerable, conceptual photographer, adding: "I think she really helped change photography in general." Ms. Scharf also looks up to the late Vogue photographer Horst P. Horst, because, she offered, "you gotta know about that side as well." After pausing, apparently trying to think of another influential artist, she said: "I mean, I kind of can't help but shout out Ansel Adams as well. His contrast is really beautiful and he knows the print better than anyone … And I really like the dark room."