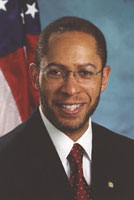 Democratic Assemblyman Michael Benjamin, a Barack Obama supporter, thinks it's over for Hillary Clinton.
In an e-mail he sent at 1:32 a.m. headlined "STICK A FORK IN HRC," Benjamin wrote:
..She's done.
Sen Obama is 10-and-0 (11-0, if you count Washington state). The race issue can now be put to rest. America knows that he is a candidate who happens to be of African American heritage. Obama has won among men and women, across the age and class barriers.
With Texas and Ohio looming as Clinton's firewall states, we can expect her campaign to pull out all stops and hope that they don't get consumed by the ensuing conflagration. As I said a few weeks ago, we've got "Obamamentum" on our side.