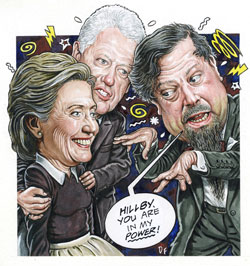 Mark Penn thinks that people have the wrong impression about him, and about Hillary Clinton's presidential campaign.
"I think that people misunderstand," he said in a 45-minute phone interview Monday evening.
He said that the emerging story line—that his poll-obsessed, microtargeting approach had produced a plodding, uninspiring campaign—was a bum rap. "The campaign has been about big goals, health care, ending the Iraq war, new energy, the future," he said. "There was a misunderstanding that this campaign was about small things. It never was. If anything, the Obama campaign has microtargeted constituencies."
Fair or not, the fate of Mrs. Clinton's campaign—she's heading into the last-chance March 4 primaries with her lead dwindling in Ohio and gone in Texas—is going to be seen as a referendum on Mr. Penn, who has arguably been the Clintons' most influential adviser for more than a decade. As the campaign squares up to the possibility of an ignominious end on March 4, Clinton loyalists have left no doubt about who they consider to be the responsible party.
Leon Panetta, who served as chief of staff in the White House from July 1994 to January 1997, told The Observer's Niall Stanage in an interview this week that Mr. Penn "is a political pollster from the past."
"I never considered him someone who would run a national campaign for the presidency," Mr. Panetta said.
A source in the campaign, speaking on background, said that Mr. Penn's philosophy was perfectly represented by a comment he made during one of Mrs. Clinton's debate preps at campaign headquarters in early winter. About 15 staffers were in a room with Mrs. Clinton discussing how she could best respond to a particular line of attack. One of the aides, the source recalled, had an idea.
"I think you need to show a little bit of humanity," said the aide.
Mr. Penn interjected. "Oh, come on, being human is overrated."
"Everyone laughed and it broke the tension, and even he had a smile on his face," said the source. "But it said a lot because it seemed to really encapsulate a viewpoint."
Mr. Penn, who recalled the comment as self-deprecating, was unrepentant about the campaign he had run, asserting that to the extent that his message was heeded, it was successful.
"I think that virtually every schoolchild knows that she is 'ready on day one,' said Mr. Penn, referring to one of the slogans he designed for Mrs. Clinton. "If you look back—at the beginning she was 'ready for change and ready to lead' and that's something that built a large coalition that carried her through Super Tuesday. Between then and now, there was a period where the campaign didn't have resources to play ahead in those states it needed to campaign in."
As he put it, his strategy had succeeded in the "biggest message-oriented states."
And, by implication, the political ground and money game, run by former campaign manager Patti Solis Doyle, her deputy Mike Henry and longtime Clinton loyalist and Penn foe Harold Ickes, ruined it for Mrs. Clinton in "organization-driven" states, where she suffered defeats in "a series of caucuses that generated tremendous momentum for Obama."
Of course, if Mrs. Clinton was running all along as the change candidate, that was far from clear: Her early campaign slogans were "Renew the Promise of America" and "In to Win," and they only gave way later to "Working for Change, Working for You."
Even Mrs. Clinton's campaign-rescuing win in New Hampshire seemed attributable to factors ranging far beyond any carefully constructed message, when she benefited from a surge of support following an extraordinary display of emotion at a campaign stop the day before the primary. (Mr. Ickes, a senior campaign adviser, has publicly pointed out more than once that even Mr. Penn was surprised by the result.)
Mr. Penn thinks the revelation of her personality was helpful, sure, but that it was the strong base he had built under her with poll-tested, tough-sounding messages that really raised her up with New Hampshire voters.
"There was the right combination of these things in New Hampshire," he said. "Exit polls showed that people thought she was strongest on economy and as commander in chief. And that combination was most successful."