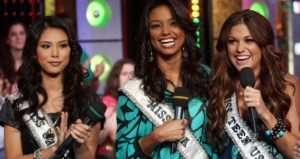 Pageant queens will soon be joining hipsters, baby carriages, and luxury condos as things that are characteristic of Brooklyn these days. That's right, following a 16-year hiatus, the Miss Brooklyn pageant returns to the borough on Feb. 23, when eight 17- to 24-year-old contestants will vie for the title, a $1,000 scholarship, and the chance to become Miss New York, the Brooklyn Paper reports.
Each of the eight contestants will compete in a private interview, on-stage question-and-answer session, swimsuit and evening gown competition and talent contest.
Forget about baton tossing. The vivacious contestants vying for the crown of Miss Brooklyn 2008 will be singing, dancing, and (at least one pageant competitor will be) performing a comedy routine. Take that, Miss Rochester!
Of course, all of the primping and prancing is for a good cause. She who takes the crown will also receive a $1,000 scholarship, makeup and hair consultations and entry into the state finals.
And it seems like the pageant organizers are keeping up with the times despite their 16-year lull. They're "looking for someone outgoing and fun with spunk and spice to her. [A woman] who doesn't fit the mold of Miss America from the 1960s and '70s." They've even gone and created a MySpace page! Although their Web site is looking a bit 1995.