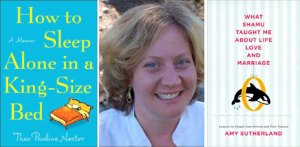 First-time authors looking for a book deal could do worse than to have a piece published in Modern Love, the New York Times Sunday Styles column that tends to provoke eye-rolling among the chattering classes—if they admit to reading the thing at all. But since it started, in 2004, with The Bastard on the Couch author Daniel Jones as its editor from his home in Northampton, Mass., no fewer than nine book contracts have been signed based on Modern Love columns, which, given the vagaries of the publishing industry, is a pretty good batting average.
The most recent deals came just last week: Ellen Graf sold a book titled The Thirteenth Horse Won, based on a column she wrote about marrying a Chinese businessman she barely knew at the age of 46; and Melanie Gideon, an Oakland-based writer, sold a book called The Slippery Year, which was pitched "as similar to Elizabeth Gilbert and Nora Ephron, a bittersweet and wise month-by-month account of the year in her life during which, upon turning 43 and confronted with her own mortality, she chooses to wake herself up, embrace the passage of time, identify what matters (and what does not)—and 'finally decide to live,'" as the industry newsletter Publisher's Lunch put it.
Ms. Gilbert's Eat, Pray, Love has been on The Times paperback best-seller list for over a year, and it's perhaps no coincidence that this style of memoir—a relationship-related epiphany, told most often by a female protagonist—is resonating with readers and editors. It's like upmarket Chicken Soup for the Formerly Heartbroken Soul That Has Recently Learned How to Live, and Love, Again.
Trip Gabriel, the editor of The Times' Styles section, told The Observer that most of the 10,000 submissions Mr. Jones has received in Modern Love's lifetime are from people aged 30 to 50, or "roughly middle-aged. And I guess the reason for that is, they've got mileage on them—they've been able to reflect, to get perspective on their lives." Indeed, the format of the Modern Love column itself can serve as a sort of book proposal, with a love- or relationship-related problem neatly solved in 1,700 or so words. And with weekly readership of the print edition of the Sunday New York Times at 1.5 million, with millions more online, publishers smell a ready-made audience.
"It's a short column, but you can feel a lot emotionally from it," said Rakesh Satyal, an editor at HarperCollins who bought a book last June that was based on a Modern Love column by Angela Balcita, 33, whose boyfriend had donated his kidney to her. "I certainly remembered the piece because it was so moving to me—it had the perfect blend of humor and emotion, and that's what this book is going to be."
"I think some Modern Love columns work well [as books] because they are the most important story of the writer's life, and it's the kind of story that's rich enough to be explored much more deeply," Mr. Jones wrote in an e-mail.
While Modern Love writers will claim the thought of getting a book deal out of their submission never crossed their minds, Mr. Jones' column is nonetheless well known for giving writers their big break. And though deals of this scope rarely install the author in a Park Slope three-bedroom with working fireplace—the advances tend to be in the $20,000 to $75,000 range—they do hoist anonymous voices out of obscurity. Many of the Modern Love contributors, for example, hail not from Manhattan or Brooklyn but from fly-over country, at times lending the column a skin-crawling credulity that is responsible for the groans from the city's Pinot Noir-and-pilates crowd.
"He's one of the few editors in the country who explicitly doesn't want famous writers," said Susan Shapiro, the 47-year-old author of two memoirs and a book on first-person writing; she is also a New York-based writing instructor whose students have managed to successfully publish in Modern Love several times. "How easy is it to get Daphne Merkin to do a piece, and then it's brilliant. But it's another thing to take a chance with young writers."
For writers who have suddenly found themselves on the receiving end of flattering e-mails and calls from agents and editors after years of rejections, Modern Love—which pays its authors $500—can, in fact, be life-changing.
"From the time I sent the piece to Modern Love, it's almost been a magical experience," said Alison Buckholtz, a writer in Anacortes, Wash., whose story about her experiences as an unlikely military wife, "A Father on Poster Board Just Won't Do," became the basis of a book proposal that sold to Tarcher/Penguin in September. Ms. Buckholtz, who is 38, had written a novel several years ago that failed to find a publisher, and was without an agent until her Modern Love story was published. "Almost everything I've published since the Modern Love piece has been published because of the Modern Love piece, I think," she said. "Every editor I've pitched a story or an essay to has immediately responded and said, 'I remember you. I saw your piece in Modern Love.'"