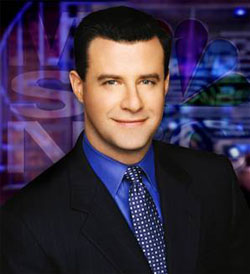 It was a little before midnight on Tuesday, Jan. 27 that MSNBC correspondent David Shuster hit the "Send" button on a curt e-mail to Republican rabble-rouser Roger Stone.
Days earlier, Mr. Stone and others had filed papers with the I.R.S. to form a "527" organization dedicated to educating "the American Public about what Hillary Clinton really is." The organization was called "Citizens United Not Timid," i.e., C.U.N.T.
"Hey Roger Stone," wrote Mr. Shuster in an e-mail to Mr. Stone's personal Web site, the Stone Zone. "Why not put your own name on this?"
Mr. Stone was in no mood to take flack from an uptight reporter unable to take a joke. Mr. Stone felt the suggestion that he was hiding behind the site was ludicrous. After all, he had invited reporter Matt Labash of The Weekly Standard to sit in on the organization's planning meeting.
The next afternoon, he responded. "Hey David Shuster," Mr. Stone wrote back. "I in essence did when I let the entire planning meeting be on the record for a reporter."
From there the confrontation fizzled, leaving Mr. Stone, weeks later, wondering what motivated Mr. Shuster to e-mail him about C.U.N.T. in the first place. Was Mr. Shuster working on a story? Or was he acting out of—irony alert!—indignation on behalf of Hillary Clinton?
It would be ironic because, two weeks later, while filling in on MSNBC's Tucker program, Mr. Shuster himself used saucy language to refer to a lady Clinton when he suggested Hillary Clinton's presidential campaign was "pimping" her 28-year-old daughter, Chelsea, who traveled extensively across the country with her mother during the early primary season.
Through an MSNBC correspondent, Mr. Shuster declined to comment for this story.
The next morning, MSNBC vice president Phil Griffin asked Mr. Shuster to apologize on "Morning Joe," which he did. Later that day, MSNBC announced that they were suspending Mr. Shuster for an indefinite period. That evening, he offered a second on-air apology.
For the time being, Mr. Shuster remains on suspension, presumably holed up in a media-proof bunker somewhere in his native habitat of Washington, D.C. And the Clinton campaign has continued to portray Mr. Shuster and his colleagues as empirically anti-women and anti-Hillary.
Anecdotal evidence suggests that MSNBC hosts are already feeling the fallout.
To wit: On Tuesday morning, Tucker Carlson, the host of MSNBC's talk show Tucker, was standing in line at the Palisades Recreation Center in Washington, D.C., waiting to vote in D.C.'s presidential primary. According to a source with knowledge of the situation, a middle-aged woman, standing in line in front of Mr. Carlson, recognized the on-air anchor and began berating Mr. Carlson about MSNBC's coverage of Hillary Clinton.
According to the source, the irate Washingtonian told Mr. Carlson something to the effect that "when you pick on Hillary, you pick on all women."
Later the uncomfortable conversation continued outside the voting hub. When reached on Tuesday afternoon at his MSNBC offices in the District, Mr. Carlson declined to comment.
Back at Citizens United central, Mr. Stone said he was united with Senator Clinton on one thing: namely, that Mr. Shuster's comments were out of line.
"The pimp comment was something he shouldn't have said," Mr. Stone said. "If Chelsea Clinton is making calls to superdelegates on behalf of her mother, good for her. That's laudable. But, on the other hand, I don't think he should be crucified for it."
As for Mr. Shuster's initial motivations, Mr. Stone ventured that the MSNBC reporter was less ideologically conservative than him (a safe bet!). "Consequently he would be more sympathetic to Hillary and Obama than to a Republican prankster like myself," said Mr. Stone. "The e-mail came late at night. I don't know if he had a couple cocktails and got pissed off, or what."
ON FEB. 1, THE Oprah Winfrey Show featured two guests. Katherine Heigl, the 29-year-starlet of the recent box office hit Knocked Up. And Patti Novak, the 46-year-old star of a cable TV show documenting the dating service she runs in Buffalo, N.Y. Recently, amid lackluster ratings, the show was passed over for a second season.
On paper, Ms. Heigl was the bigger star by light-year proportions. Yet on that particular Friday afternoon, it was Ms. Novak who shone. Over the course of the hourlong episode, Ms. Novak diagnosed the love problems of a lonely 35-year-old from Nashville, Tenn. (too competitive with her dates!); explained to Oprah why she would never date a man who held a fork like a toothbrush; and reduced the audience to stitches with an observation on the fundamental indecisiveness of men.