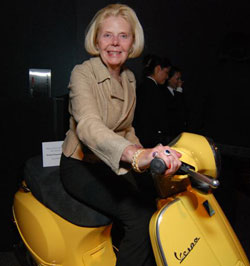 If the diamond-brooched Upper East Side brokers all give up their chauffeured Rolls-Royces for scooters, is it a sign that the Manhattan real estate apocalypse really is nigh?
Corcoran senior vice president Sharon Baum, who briefly dated Michael Bloomberg after graduating from Harvard Business School in 1965, has been chauffeured to and from her $20 million listings in a Rolls-Royce for the last 12 years.
Her license plate says SOLD 1. So does a matching diamond brooch.
After rereading Steven Gaines' soapy 2005 real estate tell-all The Sky's the Limit, which tells of Ms. Baum keeping a bottle of Grey Poupon in her "chauffeur-driven, butter-colored Bentley," this reporter inquired about the Rolls/Bentley discrepancy. "I don't know why people get that mixed up," Ms. Baum sighed. "It is a Rolls-Royce Silver Spur. And I've always had a Silver Spur."
Her most recent is hunter green with camel-colored leather upholstery, rented from a dealership in Greenwich, Conn. Three weeks ago, her chauffeur Abdul Jafeer ("a wonderful driver that's been with me for, like, 11 years") was alone when something terrible happened: "He was standing outside, the door was open, and this rickety old pickup truck comes along, hits the door. Could have killed him! So I'm in antique season, and it's three to four weeks to get it repaired," she said. "Anytime anything happens when you have a Rolls-Royce, if anyone hits your mirror or anything, it's like $1,000 and up. Our Rolls-Royce is a magnet for things happening."
When asked how she'd get to listings (like the $19.5 million, 18-room duplex at 279 Central Park West) she said: "I may start using another vehicle, for something different."
And that new vehicle, she said, is a yellow Vespa.
"You have to see it! It's really sexy. It's got a custom-leather leopard decorated striped seat, and you know how they have that little carrying case, that little round thing? It matches!" Later she let it be known that the Vespa in the photograph above is just a non-customized display model. Hers will be better.
"Yeah, it's pretty sexy… I'll have the client hop on," she said.
It's frankly distressing that Sharon Baum would even consider such a shift—not just because of the novelty of a Fifth Avenue doyenne riding a yellow/leopard Vespa. More importantly, for over a decade, Ms. Baum's Rolls and her diamond motto SOLD 1 have been symbols of uptown real estate's deep-pocketed glitz. The Rolls-Royce rolls along; prices rise skyward.
Even if the new scooter is outrageously customized, her evolution from the Rolls-Royce might portend that the Upper East Side won't be so haute and flashy in this new, less steady New York era.
But Ms. Baum's children don't worry about symbolism. "They're disowning me already," she said, "because they think it's too dangerous."