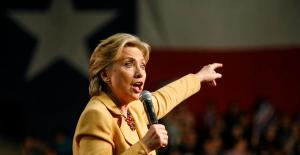 Hassan Nemazee, one of Hillary Clinton's finance chairs, thinks that the punditocracy and media as a whole are getting way ahead of themselves in proclaiming Clinton sunk.
"The pundits are creating this impression that this is a foregone conclusion," said Nemazee, who thinks the Clinton campaign needs to do a better job of making clear that there is still a real path to victory for the candidate. "There needs to be a greater pushback on behalf of the campaign to make clear that this is far from over," he said. "Our internal numbers are showing us in both Texas and Ohio up by 8 points plus and the internal numbers have typically been fairly accurate for us."
Nemazee, like Bill Clinton and just about everyone else in Clintonland, allows that things get considerably bleaker if she fails to win one of those two states. That said, he thinks that wins in Texas and Ohio once again change the complexion of what has been an incredibly unpredictable race.
"If she is able to win both Texas and Ohio this is far from over,' said Nemazee. "And she will be able to put a stop to his ten wins in a row, pick up some delegates in Texas and Ohio and Pennsylvania and the other states where she can pick up a meaningful number of delegates."