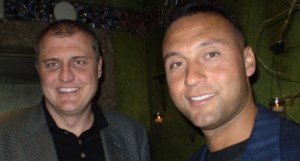 Watch out, Equinox! New York Yankees captain Derek Jeter is partnering with the international 24-Hour Fitness chain to open three new "classy" sports clubs in Manhattan this year.
What, you were expecting a Roger Clemens-run juice bar?
The first will be a 28,000-square-foot facility on Fifth Avenue, conveniently located just a short guilt-ridden walk from Danny Meyer's Shake Shack in Madison Square Park.
Additional locations are planned for SoHo and also in Midtown, a few blocks from the pro slugger's own $13 million pad in the Trump World Tower.
The healthy and wealthy Yankees shortstop recently took a breather to talk with me about the project.
Let's put this in terms that everybody can understand–using an analogy from the 2004 comedy film Dodgeball: Is this going to be more of a Globo Gym? Or, an Average Joe's Gym?
JETER: A what? Globo?
[For the All-Star athlete's benefit, the central conflict in the movie Dodgeball involves a struggle over real estate, pitting the plucky low-renters at shabby Average Joe's Gym, which is facing foreclosure, versus the smug, self-loathing muscle-bound jerks at corporate chain Globo Gym, which is threatening to acquire the Average Joe's building and gentrify the local gym scene.]
JETER: I'm not answering that one.
[24-Hour Fitness CEO Carl Liebert fielded the question.]
LIEBERT: We feel we like we can create a gym that is New York-specific and that meets the needs of the average Joes, as well as the folks who want to be a part of Globo Gym… Coming in with Derek allows us to create a brand that we think New Yorkers are going to be really excited about.
Apart from the sign out front, what other touches will say Derek Jeter?
JETER: I'm familiar with the 24-Hour Fitness gyms around the country, you know, West Coast primarily. They have their own kind of style. I want to put my own style into this gym, or more importantly, the style of New Yorkers; you know, I want it to be classy. I want it to be sophisticated. I didn't want it to be like every other gym. And, uh, when I say that I've been involved, I mean, I'm down to picking out the tiles in the bathroom.
Oh yeah? Any particular tiles that strike your fancy?
JETER: See, you laugh, but I'm building a house down in Florida. Now I go places and I'm always looking at the ceilings and the walls and all kinds of stuff.
Don't the Yankees have their own workout facilities? So you probably don't get around to Equinox and New York Sports Club as much.
JETER: Well, I've been to gyms, you know, everywhere. 24-Hour Fitness has actually outfitted our workout facilities at spring training, Legends Field, Yankee Stadium, and they're doing the new Yankee Stadium as well. So I'm familiar with all their equipment and things like that.
This project, it's taken a couple years before we got to this point, so I've found myself asking a lot of questions of people: What do you like in gyms? What don't you like in gyms?

What do New Yorkers want most in their gyms?
JETER: The thing I found the most is that people really like the trainers. They really like their relationship with their trainers, want trainers that know what they're doing. They want trainers that adapt. This isn't just a gym for professional athletes. You can be anyone. Everyone has goals in mind; and the trainers are very important to that. 24-Hour Fitness has some of the best trainers in the country.
Talk about the real estate, the locations you've chosen. 24-Hour Fitness is based in California. Was there sticker shock in opening in New York?
LIEBERT: Prior to coming to [24-Hour Fitness], I ran stores for Circuit City. I've opened in the Manhattan market for Circuit City. Then, when I was at Home Depot, I opened in Manhattan for Home Depot. What we needed Derek's help with was, you know, it's a lot different in putting a club somewhere than putting in a home improvement store. So, as we narrowed the site plan down, we put Derek in a car with our real estate team and started driving around the city and saying, 'Here's a good location. This is a tough location. I'd go here versus there.'
So, there will be three locations?
LIEBERT: To start.
Where else are you opening?
JETER: SoHo and the Citicorp building at Lex and 53rd.
Why choose Derek Jeter as a partner? I mean, the entire New York Rangers team is pissed.
LIEBERT: You want to align your brand with another brand that has similar characteristics. When I think of Derek and his professional baseball, I think of a guy who's passionate about his occupation. He's a professional from day one. The second piece is, he leads a healthy lifestyle. He's fit, even when it's the off-season. He cares about the people around him, that they're well fed and that they exercise and those things. It's so exciting that Derek wanted us to come to New York. This isn't just an endorsement deal. He's an owner. He's invested, which means he cares, which means these clubs are a part of him. And that's what makes these clubs really come to life.

I heard that at Shaq's 24-Hour Fitness clubs, sometimes you see the guy himself on the treadmill, checking people in. Are we going to actually see Derek Jeter at these places?
JETER: I'll be at the clubs. You may not see me on a treadmill. But I'll be at the clubs. No question. Especially the one up at the Citicorp building, because that one's close to where I live when I'm in New York. So that one I'll probably be at a bit more. But I want to go around and make sure that people are happy. And, plus, I need to work out as well.

I was just at a Margaritaville restaurant, you know, and there are pictures of Jimmy Buffett everywhere. How much self-promotion are we going to see in these clubs?
JETER: I've been asked that question a lot. Are you gonna come in and see me in a Yankee uniform everywhere? I don't want this to be a club solely for baseball fans, or Yankees fans.

Mets fans welcome?
JETER: Everyone's welcome. I'm not saying that you don't want baseball fans. I want something that's going to be around for a long time and can help out everyone. So, that's why I've been real specific about not having baseball pictures everywhere.
Not even a few?
JETER: There will probably be a couple. They're trying to push me in that direction because that's what I do, that's what people know me from. But you're not going to walk in and see Yankees pictures every two feet.

When do you expect to open?
LIEBERT: We target opening [Madison Square Park] in June. We're targeting August for the club in SoHo. We're targeting in the October-November timeframe for Citicorp.