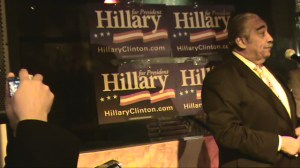 Hillary Clinton and Barack Obama weren't in New York today, but their supporters were.
A rally for Obama at Columbus Circle this afternoon was billed as a show of strength among women, but the theme, judging from at least one speaker, was a changing of the guard in New York politics.
"County leaders don't run me—other elected officials don't run me," City Council member Helen Diane Foster of the Bronx told the crowd of about 500 people. "The people run me."
Foster went on to say, "I say we get rid of Bushes. I say we get rid of the name we won't mention [because] this isn't her state."
Obama's foreign policy advisor Samantha Power asked the crowd, "How many of you out there are freezing their asses off for the first time?"
The rally-goers, for their part, seemed as impassioned as the speakers.
"Twenty years of Clinton-Bush is enough," volunteer Marie Sassi of the Upper West Side told me.
At Union Square an hour later, elected officials backing Clinton held a rally of their own to mobilize supporters on the street.
The orators weren't on a stage, and their voices – projected by a microphone plugged into a single speaker – were sometimes drowned out by the crowd of supporters.
After Representatives Jerry Nadler and Carolyn Maloney, labor leader Randi Weingarten and others had spoken—fairly standard stump material—State Senator Tom Duane told the crowd, "It's not just about rallying and cheering from elected officials.
"How many of you could spend a little time phone-banking? Who knows where 52 Broadway is?" (He was referring to the headquarters for the United Federation of Teachers, one of the places supporters were asked to go after the rally.)
Duane went on to say, "Dial 'til your fingers get hurt," and in an attempt to rile up the crowd to do "subway visibility," he said, "Get in people's faces, but do it politely."
He then directed attendees to various organizers handing out buttons, stickers, signs and directions to other phone banks.
(He introduced the following speaker, memorably, like this: "And you know, I would be remiss if I didn't say that Hillary's good for the gays, she's good for the lesbians, she's good for transgendered people, and she's good for the bi's. And we just happen to have a wonderful bi-county, Brooklyn-and-Manhattan state Senator, Marty Connor!")
In Washington Heights later on at night, at a small restaurant on 10th Avenue by 204th Street, Clinton supporters had packed into a "Latinos for Hillary" event. Bronx Borough President Adolfo Carrion told a small, standing-room only crowd that Hispanic voters, "on Super Tuesday, have become a super-big deal."
Charlie Rangel, who was among the people on stage with Carrion at the time, smiled at that line. Rangel had told the crowd, "We're going to have to do extremely good because they're watching you, they're watching me, they're watching our district. And they're watching us all over the country to see how we're going to do." Rangel explained that voters should send the message that "we stick by our friends" and that "we'll give other people the opportunity to prove, at a less dangerous time, what they're willing to do for our great country."
I asked Rangel later on what he thought the impact would be if, in his own congressional district, Obama were to beat Clinton.
"I've been in politics all my life, the thought never even entered my mind. I mean, if I all I have to do is worry about a primary after 38 years in the Congress," he said, ending his thought with a smile.
Then I asked him about his wife, Alma, who endorsed Obama the previous day.
"I have enough respect for my wife not to comment on her decision," he said, and then walked out of the restaurant.