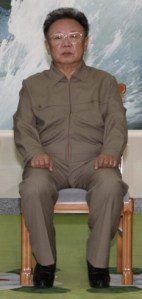 In Beijing on Tuesday, U.S. and North Korean officials met for the first time since December to resume those seemingly endless nuclear talks, which apparently didn't go very far, as the north still "wants more energy aid and diplomatic concessions" before it ditches the WMD. Concessions? Hmm…how 'bout some George Gershwin tunes instead?! Those will be delivered to Pyongyang on Feb. 26 when the New York Philharmonic performs a concert that North Korea's government has agreed to broadcast live throughout the country, according to Reuters, which also reports that officials say the concert "could break cultural boundaries and draw the two countries closer." Could this mean an official end to the Korean War once and for all? Doubtful. But more after the jump.
The concert…will be the centerpiece of a two-day visit and broadcast live by Korean Central Television, the orchestra said on Tuesday. It will also be broadcast internationally.
"A wide distribution of the concert within the country has been a central element of our agreement to perform in Pyongyang from the start," Zarin Mehta, president and executive director of the orchestra, said in a statement.
The concert will include George Gershwin's "An American in Paris" and Antonin Dvorak's Symphony No. 9 "From The New World." Both the U.S. and North Korean national anthems will also be played by the United States' oldest symphony orchestra.
The United States and North Korea are formally in a state of war because the 1950-53 Korean War ended in an armed truce that has not been replaced by a peace agreement. But they are engaged in a diplomatic process that could lead to the normalization of ties.