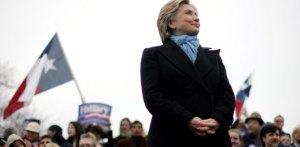 The release of Hillary Clinton's campaign finance report Wednesday night has prompted some Clinton donors to question the campaign's seemingly ill-advised and lavish spending. But in the days leading up to Clinton's $5 million loan to the campaign, at least one of Clinton's major fund-raisers talked to me about noticing a concerted campaign effort to reduce at least some expenses.
"I saw things being cut back," said the fund-raiser, who added that campaign staffers never openly said the campaign was broke, but instead suggested more modest events for the candidate. "'Oh, can we figure a way to do this at someone's house,'" the bundler remembered one staffer asking about a large scale fund-raiser for Clinton. "They were saying maybe we can find out how to do this even cheaper."
And the campaign was basically allergic to flowers.
"There are no flowers on the table, none of that stuff,' said the fund-raiser. "She gets really pissed when she sees flowers because she thinks it's a waste."
A scan through Clinton's latest campaign report shows that, in fact, not a single cent was spent on anything transparently floral.
(Though she did spend $337 at an office supply store called Laserworks in South Carolina, $349.51 at Top Hat Party Rental in Reno, $789.70 at a restaurant called Sticky Fingers in South Carolina and $2,500 for rent at the William J. Clinton Foundation in Little Rock Arkansas.)