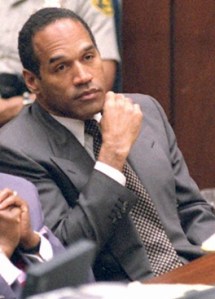 Mike Gilbert, who served as O. J. Simpson's sports agent for a reported 18 years, is writing a book for Regnery Publishing called How I Helped O. J. Get Away With Murder. According to a brief announcement published this afternoon on industry Web site Publisher's Lunch, the book will "detail O.J.'s late-night confession" and offer new evidence showing that Simpson did kill his ex-wife Nicole Brown and her boyfriend Ron Goldman. The book also promises "information on Gilbert's crucial role in obtaining the not guilty verdict and why he stayed silent for so long."
Some of the proceeds from the book have been pledged to the Make-a-Wish foundation, according to the posting on Publisher's Lunch—a commitment most likely motivated by the public outcry sparked back in November 2006 when HarperCollins announced plans to publish O. J. Simpson's kinda-sorta confession, If I Did It.
A spokeswoman from Regnery, a D.C.-based shop that describes itself as the "leading conservative publisher in America," is currently trying to find out for the Media Mob where the idea for the book came from and what else readers can expect from it. Update to come when we get a call-back.