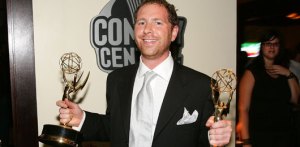 If the writers' strike ends as soon as people think it's going to, it won't be too long before the guys who produced the Will Smith vehicle The Pursuit of Happyness—a company called Escape Artists—will be able to get started on their latest project: a film adaptation of Benjamin Wallace's forthcoming book The Billionaire's Vinegar, the tale of top-shelf shyster Hardy Rodenstock, who tricked a really rich man into paying him half a million dollars in 1985 for a case of 1787 Chateau Lafite Bordeaux wine that was purportedly, but not actually, once stored in the wine cellar of Thomas Jefferson.
Roughly the same is true for producer Ben Karlin, except the movie he's going to work on will be based on an article about Mr. Rodenstock that was published in the Sept. 3, 2007, issue of The New Yorker. Mr. Karlin has been on in the news recently for his book, Things I've Learned From Women Who've Dumped Me, but he's best known as the creative force behind The Daily Show and The Colbert Report.
Ben Karlin knows all about Benjamin Wallace's project. In fact, he and Mr. Wallace know each other pretty well: They live in the same building in Brooklyn.
Mr. Wallace moved to Brooklyn this past September after spending 10 years living in Pennsylvania as an editor at Philadelphia magazine. He'd been working on the Rodenstock book for years, and his literary agent, Larry Weissman, had helped him sell it to Crown at auction in 2005, shortly before Mr. Rodenstock was sued for the sale and a story about the case appeared in The Wall Street Journal.
Mr. Wallace met Mr. Karlin soon after he and his fiancée—New York magazine's Jessica Pressler—moved into their new apartment in Fort Greene. Mr. Karlin—who had left his job at Comedy Central about nine months earlier and had struck up a deal with HBO whereby he'd develop ideas for TV shows and movies as the head of his own newly formed production company—liked the sound of Mr. Wallace's book, and thought it might make for a good film. He talked about it with Mr. Wallace informally, but the discussions fell apart before Mr. Karlin could make a real offer.
Not long after, Mr. Wallace and his film rights agent, Sarah Self at the Los Angeles-based Gersh Agency, closed on an option deal with someone else: the production team Escape Artists, which includes Will Smith, and Overbrook Entertainment. Though the deal was not reported until months later—less than two weeks ago—sources familiar with the situation said the contract was finalized before the writers' strike began back in November.
And so not only had Mr. Karlin failed to obtain the option he wanted, but to add insult to injury, some other company had walked away with it instead. Despite this seemingly insurmountable setback, Mr. Karlin wanted to push forward with his project: One way or another, he was going to make a movie about the wine forger. He thought it was a great story, he told The Observer, and it spoke to his fascination with the world of fine wine collecting.
The book was off limits, he knew. The New Yorker article, though—as yet unclaimed and totally fair game! The article had been published just as Mr. Wallace was leaving Philadelphia. The writer, Patrick Radden Keefe, had come up with the idea for the piece after reading about it in The Wall Street Journal.
When Mr. Karlin realized he could make the movie he wanted without buying the rights to Mr. Wallace's book—that there was another way to go about it—he had his agent call Mr. Keefe's (conveniently, their agents work at the same firm). "I obviously had huge reservations about going forward," Mr. Karlin said. "It's hard enough to get something made—and then to turn around and know there's another project out there? That's just not an appealing situation."
Then there was the question of whether the other guys would have a significant advantage over him since they had a whole book to work with and he only had a 8,895-word magazine article. Mr. Karlin decided this was not a deal-breaking disadvantage: "Great stuff comes out of all manner of material. Great movies have been made out of magazine articles and great movies had been made out of books. If I felt like the magazine article wasn't enough, I wouldn't have done it."
Nevertheless, in October, Variety reported that Mr. Karlin's production company, Super Ego Industries, had inked a deal—the company's first ever—for a movie about the Rodenstock wine forgery based on Mr. Keefe's article.
For now, both Super Ego Industries and Escape Artists are on the bench because of the strike, but once that's over, both companies will make a go of it. As Mr. Karlin said, "The reality is at any one moment there are probably hundreds of competing or similar projects. … I was told many times over by people from all angles of the industry that it happens all the time. Projects get put on different timelines, projects go away, and sometimes they both get made."
It's true: the story of Russian ex-spy Alexander Litvinenko, for instance, has been optioned by three separate companies: once through his autobiography, once through a book by his widow and once through an account written by New York Times reporter Alan Cowell.