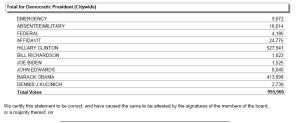 The city Board of Elections, whose initial and unofficial results from the February 5 presidential primaries under-counted Barack Obama's numbers, just released an official count.
Officially, Hillary Clinton got 527,941 votes citywide and Obama got 413,898 votes citywide.
I'm just looking through the district-by-district numbers and will have an update shortly.