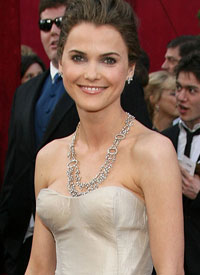 "I feel like the mood is people are trying to show a little restraint, and not be too showy or glamorous," John Waters told the Transom during Julian Schnabel's art opening at Larry Gagosian's gallery on North Camden Drive in Beverly Hills on Thursday, Feb. 21—"Hollywood's chance to wear black and look at art and pretend they're New Yorkers," he said dryly. Mr. Waters was mourning the canceled Vanity Fair party. "That's just celebrities gawking at each other," he said. "How fun is that?"
There were not quite as many stars at the gallery as last year, a trend that would continue throughout the weekend. (Patrick Dempsey presenting? Keri Russell? The Rock? What was this, the Emmys?) Perhaps they had stayed home for a political fix. "I watched the second half of the debate, and I thought Hillary had a marvelous finish," said Diane Keaton, clad in her customary uniform of hat, shades, billowing black pants and a striped black-and-white blouse whose sleeves descended into gloves. "And when I'm done with this I'm going to watch it from the beginning on C-Span."
By around 9:30 p.m. on Friday, soon-to-be-anointed Best Director Joel Coen and his actress wife Frances McDormand, plus comedian David Spade and lots of random TV executives, agents and managers, were swarming the as-yet-unfinished Los Angeles outpost of Soho House on the top floor of an office building on the corner of Cory Avenue and Sunset Boulevard, where NBC Universal co-chairman Ben Silverman was hosting a birthday party, with lobster—for whom, the Transom was unable to determine. Later the singer Elton John and his husband, David Furnish, arrived.
"I couldn't quite tell who the crowd was," said Richard Robbins, whose film about U.S. troops, Operation Homecoming, was nominated this year in the best documentary feature category and would go on to lose to Taxi to the Dark Side, about the Bush administration's torture policy. He and wife Katherine Pope, president of NBC Universal Television, had just come from a dinner thrown by the Endeavor agency at Foxtail, a new nightclub on Santa Monica Boulevard, attended by, among others, mogul Harvey Weinstein (plans for an intimate dinner at super-agent Ari Emanuel's house had been scrapped in order to accommodate more people). Meanwhile, CAA hotshot Bryan Lourd was toasting his clients with a private dinner at his home. "There are many fewer things this year and so you have more people trying to go to the same four things," Mr. Robbins said.
Up the street at the Chateau Marmont, actresses Sharon Stone, Julianne Moore and Laura Dern (along with her husband, the singer Ben Harper); HBO Films president Colin Callender; Houston socialite Lynn Wyatt; the late photographer Helmut Newton's, wife June; and rap mogul Russell Simmons were attending a party hosted by the Diamond Information Center. Jewels had been decadently draped on top of entrees and dessert platters, and by the end at least one was swiped (or perhaps swallowed). "There was definitely some accounting going on," said an attendee, who had noted flacks rifling anxiously through plates of candy.
The subdued post-strike mood noted by Mr. Waters was only accentuated by unseasonably gloomy, damp weather in L.A., along with what one Sunset Tower Hotel valet termed the "Sundance flu," a vicious bug that the entire town seemed to have picked up at the Park City film festival in January.
"I'm still on the Vitamin C," said Shirley MacLaine earlier on Friday evening, sitting in a plush couch in the lobby of the Beverly Hills Hotel with a friend. "But I think I may be through the worst of it. See? My wheezing is gone!"
There were many more grand dames to be found at producer Alex Hitz's party on Saturday at his impeccably decorated mansion atop the Hollywood Hills: actress Joan Collins, heiress Betsy Bloomingdale, Barbara Davis (widow of Marvin, granny of Brandon), legendary diet-pill-pusher Nikki "Starcaps" Haskell, Ms. Wyatt again. Also, younger socialites Alexandra Von Furstenberg, Caroline Berthet and Tory Burch.
"This has become the chicest party of the weekend," said Peter Bacanovic, formerly Martha Stewart's stockbroker, now a jewelry executive, as he exited into the rain. "All chiefs, no Indians."
By around 11, the imminence of the glorious Little Gold Man was finally palpable at the Beverly Hills Hotel, where mogul Jeffrey Katzenberg held his annual The Night Before Party. A steady stream of pretty much every famous working actor flowed out of the hotel's Crystal Ballroom—Orlando Bloom, Harrison Ford, Cameron Diaz—all looking very happy, carrying giant gift bags. Reporters, alas, were relegated to the Polo Lounge.
Perhaps the most missed event on Sunday, besides Vanity Fair's, was that usually held by Hollywood doyenne Dani Janssen at her apartment in Culver City and attended by absolute A-listers like Jack Nicholson, Clint Eastwood, Michael Douglas and Harrison Ford.
Instead Ms. Janssen joined Mr. Callender, the HBO film head, and his lovely wife, Elizabeth, on Sunday for a small shindig in their sprawling home overlooking Beverly Hills.
When the ceremony concluded, the real show began as Ms. Janssen, who has long blond hair and wore all black, regaled guests with stories of years past. She remembered the night she went on a date with the late Marlon Brando. After dinner Mr. Brando began driving them eastward—toward the jazz clubs. Ms. Janssen knew she was headed for trouble once they passed La Cienega Boulevard, and had crossed the line once the car zoomed passed La Brea. In those days the studio had rules and the actors followed them. Except for Brando, who could do whatever he wanted, including going to the jazz clubs and playing the bongos all night—kinda like Matthew McConaughey before he got saddled with a family!
At any rate, after a while Ms. Janssen said she got tired of the scene and took a cab home. She added that young actors and actresses today (cough, Lindsay?) could learn a great deal from stars of her era, who never left the house looking unkempt, could handle their drugs. To this day, she said, they respect her house rules: blow on this balcony, grass on that one and the bathroom is for going to the bathroom only.
Later, on the phone from Baltimore, Mr. Waters said that the Elton John fund-raiser at the Pacific Design Center had been good fun, but not quite the movie-star-studded affair that the Vanity Fair party usually is. After watching Mr. John perform, he'd gone home. Prince was hosting something, and so was Madonna—but all that seemed kind of exhausting, he said.