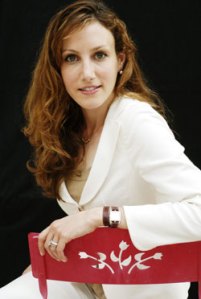 Novelist Marisha Pessl has left Viking Press, the house that published her hugely popular debut, Special Topics in Calamity Physics, in favor of a more lucrative contract at Random House's flagship imprint.
The new book will be called Night Film, according to her literary agent, Binky Urban of International Creative Management. Ms. Pessl, she said, expects to finish it in several years. Ms. Urban described the book as "a psychological thriller about obsession, family loyalty and ambition set in raw contemporary Manhattan."
"Viking [a division of Penguin Group USA] was delighted to launch such a stunning debut, but we could not come to terms on her second book," said Viking's director of publicity Carolyn Coleburn, in a statement.
Ms. Urban declined to comment on the deal, except to say that the book was sold based on a proposal.
Calamity Physics, the story of a brainy, wisecracking girl named Blue van Meer who becomes wrapped up with a secretive and cultish group of kids at her private high school in North Carolina, and goes on to unravel all sorts of family mysteries, sold 66,769 in hardcover and 70,927 in paperback, according to Bookscan, and received a glowing review on the cover of The New York Times Book Review that compared its then-28-year-old author to Vladimir Nabokov.
Night Film is the first book Ms. Urban—considered to be one of New York's most powerful and prestigious literary agents—has sold for Ms. Pessl. Calamity Physics was handled by Susan Golomb of the Susan Golomb Literary Agency; Ms. Pessl signed on with ICM sometime in the past year, according to Ms. Urban, who said she first met Ms. Pessl last summer.
Ms. Pessl's editor at Random House will be Kate Medina, who is executive editorial director of the imprint.