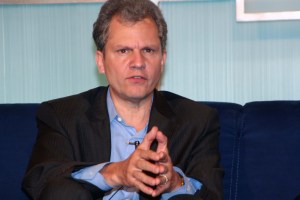 New York Times publisher Arthur "Pinch" Sulzberger Jr. is not having a bright and shiny day. For one thing, the newspaper's buccaneer shareholder Harbinger Capital increased its pressure on the Sulzberger family's company by formally nominating its own four candidates to the paper's board of directors.
But in Manhattan, boardrooms aren't nearly as important as duplex co-ops. According to a deed filed in city records this afternoon, Mr. Sulzberger transferred ownership of his family's A-line duplex to his wife, the artist Gail Gregg, for $3,255,721. The apartment is in Harperley Hall, a stately pre-war co-op at 64th Street and Central Park West.
Ms. Gregg and her son, a reporter, would not comment. Times spokesperson Catherine Mathis, when asked if Mr. Sulzberger and his wife are separating, said this was done for estate-planning purposes and wouldn't comment further.
Why might a transfer like this make sense for estate planning? Real estate attorney Rob Frankel gave this scenario: "Let's say I'm either older or more sickly, or we think I'm going to die first. There's going to be an advantage to you if I owned it alone and left it to you, because you inherit it at the value at the time of my death, and you don't have to pay taxes based on how much we bought it for."
It isn't clear from city records when this apartment was bought, but the couple has been in the building since at least 1992, city records show, when the market was a tad less excessive.