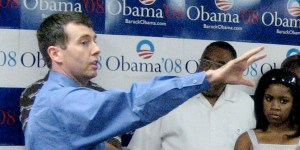 Obama campaign manager David Plouffe said on a conference call this morning that no matter what happens in Texas and Ohio on Tuesday, the Clinton campaign will not be able to make significant progress in cutting Barack Obama's delegate lead.
"If this pledged delegate lead doesn't drop below 100, they simply don't have any avenue toward the nomination," said Plouffe, echoing comments he made after the Wisconsin primary.
He added, "There's a reality here. And the numbers aren't arguable." And, "The question is how many pledged delegates do they gain on Tuesday."
Saying the Clinton campaign would have to make "huge gains" in delegates on March 4, Plouffe added, "They are going to fail."
Talking specifically about Texas, and a reported threat by Clinton aides to sue the Texas Democratic Party for its complicated delegate selection process and to delay results of some caucuses, Plouffe said, "The Clinton campaign has deep anxiety." The Obama campaign manager argued that Clinton aides threatening such a suit "don't want the people participating in those caucuses having their results reported in a timely fashion."
In the question-and-answer period, Plouffe was asked repeatedly about a new ad by the Clinton campaign that suggested that in a time of crisis, Obama would not be ready.
Plouffe responded, "Senator Clinton has already had her red-phone moment," referring to her vote to authorize the war in Iraq.
"Senator Obama has made the right judgments," he said.