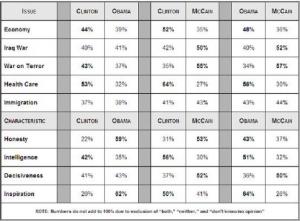 A Siena poll released this morning shows that both Hillary Clinton and Barack Obama would win New York State over John McCain in a hypothetical general election, but only by seven points (Clinton 49-42, Obama 47-40). A Siena spokesman says the state has gone from "solidly blue" in the last five elections to "showing streaks of purple."
Of course, McCain is a much more moderate Republican than the country has seen for the last several elections. He also took most of the support that had previously been behind Rudy Giuliani.
Not surprisingly, Obama's favorability rating is at its all-time high for a Siena poll, this survey shows, while Clinton's has dropped. But they are favored just about equally among Democrats—it's Republicans and independent voters who are embracing Obama over Clinton.
Here's the release:
Loudonville, NY. Arizona Senator and presumptive Republican presidential nominee John McCain trails either Senator Hillary Clinton or Senator Barack Obama by seven points in head-to-head matchups among New York voters, according to a new Siena (College) Research Institute poll of registered voters released today. The Siena New York poll shows that voters give a clear edge to either Democrat to do a better job on the economy and health care than McCain, while they think that McCain would do a better job than either Democrat on the war in Iraq or the war on terror.
Voters also give high marks to Obama on inspiration, McCain on decisiveness and Clinton on intelligence. New York voters are split on whether they think Clinton's gender will matter to most Americans; a small majority believes Obama's race will matter; and two-thirds believe that McCain's age will not matter.
"New York, which has been solidly in the blue column for the last five presidential elections, is showing streaks of purple nine months before the election, with McCain only trailing by seven points against either New York's Clinton or Senator Obama," said Steven Greenberg, Siena New York Poll spokesman. "And neither Democrat hits the magic 50 percent mark. Clinton, who led by 14 points last month, has seen her lead cut in half, while Obama expanded a slim two-point lead to seven points."
Clinton leads McCain 49-42 percent and Obama beats him 47-40 percent. Clinton wins with women by 14 points and trails by one point with men. Obama leads by three points with men and 10 points with women. Clinton is up 38 points in New York City, and loses by 15 points in the suburbs and eight points upstate. Obama's lead in the City is 35 points; he loses in the suburbs by 23 points and is down by one point upstate.
"Hillary has seen her favorability rating fall by seven points since January, while those rating her unfavorably rose by eight points" Greenberg said. "Obama's favorability rating edged up to 60 percent, his highest ever in a Siena New York poll."
Clinton is viewed favorably by 53 percent of voters and unfavorably by 43 percent, down from 60-35 percent in January. Obama has a 60-30 percent favorable rating, up from 57-28 percent last month. While they both have comparable ratings among Democrats, Obama has a much stronger favorability rating with Republicans and independent voters. McCain is viewed favorably by 55 percent of voters and unfavorably by 34 percent, down from 56-27 percent in January.
When matched up against McCain on a series of issues, both Clinton and Obama win big on health care and the economy. Both lose significantly on the war in Iraq and the war on terror. No candidate has an advantage on immigration. When the two Democrats are matched up, Clinton strongly beats Obama on health care, has a small lead on the war on terror and the economy. They virtually tie on the war in Iraq and immigration.
In head-to-head ratings of presidential traits, voters prefer Clinton to McCain on intelligence and inspiration but give the nod to McCain over Clinton on both honesty and decisiveness. Against Obama, McCain only wins on decisiveness. Obama, according to New York voters, is more suited to the Oval Office than is Clinton on both inspiration and honesty but he trails Clinton on intelligence. Overall, McCain is the choice of voters on decisiveness, Clinton on intelligence with Obama the winner among voters on both inspiration and honesty.