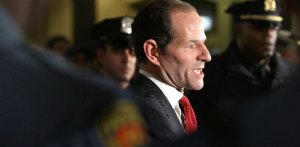 A majority of voters in New York State still have an unfavorable view of Eliot Spitzer, according to a new Siena poll.
His rating, according to the poll, is 41 percent favorable, 46 percent unfavorable. The poll also shows only 25 percent of voters would re-elect him right now, while 50 percent say they prefer someone else.
What's also interesting is the lack of support for Spitzer's plan to close the budget gap by reducing aid in education, maintaining health care cuts and not raising taxes.
When asked about those three options [question 9], 32 percent of voters favored raising taxes to plug the budget gap, including 40 percent of Democrats. Also, 33 percent of voters in New York City suburbs said they preferred raising taxes, along with 26 percent of voters upstate (both are areas where lowering taxes is a major issue).