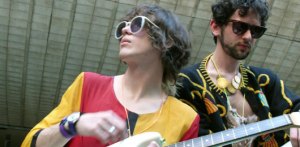 When trance-rock duo MGMT—pronounced management—make their last stops before their European tour promoting their debut full-length album, Oracular Spectacular, to play the Bowery Ballroom on Feb. 13th and the Music Hall of Williamsburg on Feb. 14th, it will put the finishing touch on an unlikely success story.
"It's kind of weird," said Ben Goldwasser, 25, who met the other half of MGMT, Andrew Van Wyngarden, 24, during their Freshman year at Wesleyan. Almost straight out of college, they signed a deal with Columbia Records in late 2006 based on only the six-song EP, "Time to Pretend." "We all felt guilty that there's so many bands and so many friends of ours that are working so hard to get noticed by a label and make it, or whatever. We definitely were not trying at all. We were just kind of doing our own thing."
A year-and-a-half ago, Goldwasser arrived in New York, sublet an apartment in Carroll Gardens and began working on a demo with Vanwyngarden who was in nearby Park Slope. He hadn't planned on staying in the city long, until a call came in from Columbia Records—about a week later—they wanted to schedule a meeting. After that, Goldwasser says, "It kind of just became an extended vacation."
"I had their independently released EP on repeat on my iPod," said Maureen Kenny, MGMT's A&R rep at Columbia Records. She hadn't seen MGMT live, but a friend of a friend of the band was interning at the company and dropped the CD on her desk. "I couldn't seem to get enough of it and felt this was something different. At the time, I knew the project was just in its infancy and it was just two guys singing over an iPod, but I could tell that there was something there."
At Wesleyan, they were known for their noisy electronic arrangements, more performance art than rock band, writing new songs for each 15-minute gig. Over time they evolved; Spacemen 3, Royal Trux and Suicide were obvious influences. Now, their songs—profound yet funny inside jokes like "Time to Pretend" (Let's make some music/ make some money/ find some models for wives/ I'll move to Paris,/ shoot some heroin/ and fuck with the stars)—are garnering the right kind of attention.
"I wouldn't say that anything we're doing is more conceptual or academic, but I think our college experience helped shape what this band is," said Goldwasser. "It's a really supportive environment to start a band. People really give you a chance there. There's a lot of freaks there, so … it's a very liberal place. You can do whatever you want in terms of a performance and somebody's going to like it."
It seems like a while since a major record company has taken a chance on a young experimental band like MGMT. The self-described "psychic pilgrims" had not played their new album live, until after recording it with Dave Fridmann at Tarbox Studios in Upstate New York.
"Yeah, [Columbia Records is] definitely taking more of a risk then they would be with …" said Goldwasser. "I don't want to talk negatively about any band—but I would say that a lot of newer bands that are on major labels right now are pretty surefire."