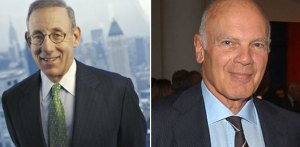 Developers Related Companies and Vornado Realty Trust have been pouring money into the proposed redevelopment of Pennsylvania Station as part of the grand Moynihan Station project, spending tens of millions of dollars so far in the project's planning.
Now the project seems to be running into trouble, and whether or not Moynihan Station will ever make it off the drawing boards represents a major test for Related and Vornado, led respectively by Stephen Ross and Steven Roth.
Back in May, the developers wrote to the state that they had spent more than $47 million on the project, an amount that is said to have risen substantially since.
Related and Vornado have a small army of lobbyists working to secure federal funding, and numerous engineering firms and high-profile architects are working on the project, including Skidmore Owings & Merrill and SHoP, according to state records obtained through the freedom of information law.
The large amount of spending thus far—at a stage where planning is far from done and the public has not even seen renderings—is indicative of the tremendous value that Vornado and Related stand to gain from the project, which involves moving Madison Square Garden to the rear of the neighboring Farley Post Office.
"Nothing could be a clearer statement of our long-term commitment to Moynihan Station," the president of the Moynihan Station Venture, Vishaan Chakrabarti, wrote to the state in May about the $47 million. The Venture represents the joint effort of Related and Vornado.
A priority of the Spitzer administration since the governor arrived in office, Moynihan Station seems to have hit some major obstacles: The Dolan family, which owns Madison Square Garden, is giving signs that it is tiring of inactivity and disagreements among the project's multiple constituencies, including preservationists, and is considering a renovation of the existing Garden rather than a move.
Without the Garden moving, Penn Station could not be remade, and without that redo, Vornado and Related will not have access to more than five million square feet of air rights tucked away on the Garden site.
Those air rights stand out as a tremendously appealing carrot for the developers, especially Vornado, which has substantial property holdings in the area.
Of course, officials have been trying to breathe new life into Penn Station for well over a decade, with plans to expand into the old Farley Post Office building. But problems of support and funding have chronically hobbled the plan, which has outlived its most ardent supporter, former U.S. Senator Daniel Patrick Moynihan.
Though never before has the reward for the developers been so great—the developers have said they expect about $14 billion in investment in the area related to the project.
According to federal lobbying records, Related and Vornado spent more than $1.3 million in lobbying in Washington in 2007, as the state is looking to get hundreds of millions from the federal government for Moynihan Station.