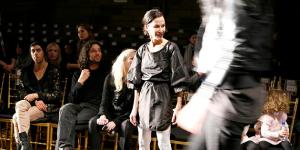 A cluster of British fashion students huddled before the 3 p.m. Reem Acra show at the Bryant Park Promenade on Thursday, Feb. 7, holding fashion trade magazines and strategizing about how to sneak inside. They fanned out, walking with purpose.
"It's a chance to see designers," one told the Daily Transom, before seeing a group with latch-on potential walking by, apologizing and walking after them.
Hamming it up inside for the pre-show flashbulb onslaught were the actresses Sophia Bush and Aisha Tyler, the latter in a cocktail dress, and news anchor Rita Cosby.
Forty-five minutes after the official start time, workers removed a huge, environment-be-damned strip of plastic protecting the runway.
Deep purple, emerald green, navy blue, and gray gave Ms. Acra's collection a regal air. Many frocks looked like classical Greek frieze images, with one sleeve and careful ruffles, mirrored in the model's hairdos: wavy from the neck down, like a complex hairdo finally undone at the end of a party. They were belle-of-the-ball dresses young girls see in their mind's eye when playing dress-up with mom's old nighties.
An hour later and a few blocks south, Ms. Tyler took her coat off at the Cynthia Rowley show, revealing a sleek gray skirt suit. "My hotel's like around the corner from the show," she said with a laugh, when asked how she pulled off the quick-change act.
Further down the row sat Tatum O'Neal, Lipstick Jungle's Kim Raver and Lindsay Price—yes, total Lipstick Jungle saturation point now reached!—and, even further, a messy-haired Philip Seymour Hoffman. On the other side of the runway, Parker Posey, wearing minimal makeup, mock-pouted for a photographer mob, sunglasses on.
"I don't like to go to these things. They make me sweat," Ms. Posey told the Transom.
A blank white runway backdrop fell outward to reveal a sylvan pop-up set with a doorway in its center. Some of Ms. Rowley's designs matched the ragged, leafy shapes and colors of the backdrop. The carefully faded fabrics and Little House on the Prairie shirtdresses seemed bound for Bedford Ave. It all looked deliberately accidentally urban.
And the designer, who had overseen show preparations with two tired young daughters in tow, earned raucous applause from the crowd packed in all the way back to the hall's Corinthian-columned walls.