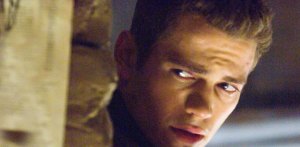 And it will be—those slick Super Bowl commercials looked pretty irresistible, right? Except the problem with Jumper is that the film never goes into any deeper territory than those 30-second glossy spots. But that's not the only problem; there's also the film's star, Hayden Christensen. We have always been mystified by certain actors' careers, and Mr. Christensen has one of them. He was great when he was playing a liar, or at least someone suspiciously unconvincing, in Shattered Glass. But then, around the time he was Anakin Skywalker in the Star Wars prequels, we started to realize that Mr. Christensen is just a naturally unconvincing actor who once lucked into the perfect role. In Jumper, based on the 1992 book by Steven Gould, Mr. Christensen plays David Rice, a man who discovers he has the ability to teleport anywhere in the world he can imagine. The possibilities are endless: surfing in the Maldives, cocktails in London and maybe a swing through a bank vault for some cash … all before lunch. There is the obligatory back story appropriate to mythic tales and comic books: an unhappy childhood, a mother who left when Rice was 5-years-old, the childhood romance with an apple-cheeked girl who grows up to be the apple-headed Rachel Bilson (a.k.a. Summer from The O.C.), etc. Through it all, Mr. Christensen's face remains impressively impassive, and his delivery is breathtakingly flat. The most frustrating thing about the movie is seeing what it could have been, for the idea and special effects are actually pretty cool. Samuel L. Jackson (can he not just say no, or what?) is pretty f'n scary as the baddie, and Jamie Bell (Billy Elliott all grown up!) is so much better than Mr. Christensen as the sidekick that we found ourselves wishing for a casting teleport-switcheroo. Don't even get us started on the random appearance of the lovely Diane Lane. Director Doug Liman has done so much better in the past (Mr and Mrs. Smith, The Bourne Identity) that we're guessing all the behind-the-scenes problems that plagued Jumper's production, including all the last-minute casting changes, got the best of him this time.
Jumper opens Thursday at AMC Loews 19th Street East 6, Regal Battery Park Stadium 11 and Clearview First and 62nd.
GEORGE A. ROMERO sure does love himself some zombies. The legendary writer-director behind Night of the Living Dead, Dawn of the Dead, Day of the Dead and Land of the Dead is back with Diary of the Dead. And apparently this time the only thing scarier than dead people coming to life and lurching about trying to eat human flesh is the Internet (thank you!). Or so it goes in this low-budget horror film, which is either a deliberately campy commentary on the current need to document everything (the main characters, while being chased by zombies, record everything and upload to a Web site) or just plain off. But it did make us realize that between Cloverfield and this film, young pretty people sure are dumb.
George A. Romero's Diary of the Dead opens Friday in select theaters.