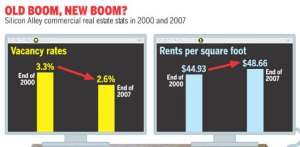 Is it time to hit Ctrl-Alt-Delete on Silicon Alley?
On paper, the stretches of Fifth and Broadway from Madison Square Park through Union Square look much like they did in 2000, just before the dot-com bust. Office vacancies are few and rents are just as high. Tech firms with names like Alexander Interactive and Proclivity pock the commercial landscape. Young people operate them out of offices that were considered technologically cutting edge less than a decade ago. Finally, the number of IT pros in New York City jumped mid-decade.
Still, in 2008 Silicon Alley exists more as a spiritual home than as a physical one—and it probably will forever, because the very nature of what created the original has evolved irreversibly.
"None of us consider the area we're in Silicon Alley," said Alex Schmelkin, 31, the president of Alexander Interactive, a Web design and engineering firm with offices at 149 Fifth Avenue. "It's rare you even say the term. It feels much more common to say 'Flatiron.' People just say 'Soho area' instead of 'I'm running a Web business in Silicon Alley.'"
Mr. Schmelkin's firm moved to Fifth and 21st Street from the Union Square area last April for the most understandably pedestrian business reason: It was cheaper to expand.
"Just looking around," he said, "we're probably the only Web- or tech-focused business in our building."
Sheldon Gilbert, 32, was in Silicon Alley at MagicBeanStalk.com (those were the days!) when it was truly Silicon Alley, the East Coast answer to California's much vaster Silicon Valley. Young entrepreneurs in blue jeans and Pearl Jam T-shirts sparred and partnered to make these new-fangled things called the World Wide Web and the Internet engines of lucrative commerce. Some succeeded splendidly; others failed and moved on.
Mr. Gilbert left the Alley after the bust. He returned this January as CEO of his own company, Proclivity Systems, which tracks online consumer behavior. Its first client was New York retail institution Barneys.
"A lot of our retailers are not too far away and a lot of our clients are not too far away," Mr. Gilbert said of the Alley move.
He referred questions about his office rent to his publicist and his real estate broker, but he did say the move was part of a firm expansion. Proclivity took 4,500 square feet at 134 Fifth, the building's entire third floor, moving from a smaller spot in Chelsea.
The Alley's office rents are cheaper than even most of the cheapest in midtown, according to brokerage Cushman & Wakefield, and are comparable to downtown's. At the end of 2007, an average square foot of Silicon Alley office space would rent for just under $49 a square foot; midtown prices are at least $10 higher a foot.
Such amounts add up in a city teeming again with tech workers. Between 2003 and 2006, the number of Internet-technology employees in New York increased 12 percent, to 200,000-plus, according to the State Labor Department.
But it's not like they all have to line up along an Alley wiring itself to take advantage of new technology, as was the case in the late 1990's. The wiring is everywhere now (or it's wireless), and the technology is no longer new. Take hegemonic dot-com Google: Its East Coast mini-headquarters rests along Eighth Avenue in West Chelsea, at least three long blocks from Silicon Alley.
And a long way from 2000.