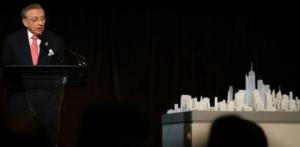 Seven weeks after he had hoped to start construction, Larry Silverstein is ready to build at Ground Zero, as the Port Authority announced today it has finished excavations and cleared space for World Trade Center Towers 3 and 4.
The Port Authority missed its deadline of Jan. 1 to turn over the site to Silverstein Properties, and has owed $300,000 a day to the developer since, an amount that now exceeds $14 million. However, the cost is offset some, as the agency has said it offered a $10 million incentive to its contractors to finish before the deadline.
Completion of the towers is expected for 2011.
Release below.
PORT AUTHORITY COMPLETES EXCAVATION WORK FOR WTC TOWERS 3 AND 4;
TURNS OVER SITES TO SILVERSTEIN PROPERTIES
The Port Authority of New York and New Jersey has completed the excavation work for World Trade Center Tower 3.
Following last month's announcement of the completion of excavation for the Tower 4 site, the agency said it has now completed all excavation work for Towers 3 and 4, two nearly 80-story office towers at the World Trade Center site. These sites have now been turned over to Silverstein Properties.
Over 13 months, the Port Authority excavated and constructed an entirely new 80-foot-deep foundation in concert with the continuing daily operations of the World Trade Center PATH Station moving 80,000 commuters a day. The project involved the removal of nearly 400,000 tons of concrete, soil and rock, the construction of an 80-foot-deep slurry wall and the installation of more than 240 steel tiebacks to hold that wall in place.
Since the Port Authority took over substantial responsibility for rebuilding in September 2006, all aspects of the site are moving forward.
In addition to completion of the excavation work for Towers 3 and 4, major construction at 1 World Trade Center, The Freedom Tower, continues with rising steel nearing street level and the building's foundation and footings nearly complete. Construction of the foundations for the World Trade Center Transportation Hub and Memorial are also in progress. Major steel beams for both projects will be erected during the upcoming year, and a new PATH station entrance is scheduled to open in the coming weeks, which will be in place until the Hub's completion.