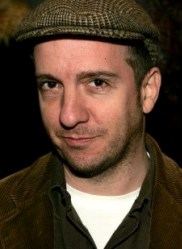 Stephin Merritt wears brown on the outside because brown is how he feels on the inside. Or something like that. The beloved Magnetic Fields front man explains his penchant for the color that dominates his wardrobe in an interview with New York magazine this week. For one thing, he says, he wears brown instead of black because he doesn't want to "look like a French tourist in Soho." Zing! But brown also matches his hair and his eyes and, most importantly, his cute white and beige dog with a little brown nose. Awww! More from the interview after the jump. Thanks to Sound of the City for the tip.
It must be hard to clash when you wear all brown.
Impossible. The great thing about brown is when it fades, you can't tell what color it originally was. There's no sense of the "right" color saturation.
What else do you like about it?
Brown shows absolutely nothing. You'd have to spill some fuchsia paint. If you wear black, dandruff is horrific and lint is a nightmare—and dog hair, in my case, is a particular problem.

What color is your dog?
White and beige with a little brown nose. He's incredibly cute.

Are there any downsides to wearing brown?
I've been invited to two events that required black tuxedoes, so I didn't go. I always said I'd wait until I'd been asked to three tuxedo events before I accepted. So I'm in danger of needing to wear a tuxedo.

What were the events?
The first was a party at an embassy; the second was a wedding. I don't know why tuxedos were necessary. But obviously I've never been to a tuxedo event. Maybe it's glorious fun.