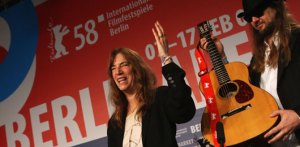 Don't call Patti Smith a punk rocker. While attending a screening of Steven Sebring's new film, Patti Smith: Dream of Life, which intimately documents the life and career of the 61-year-old New York City icon, Ms. Smith was asked by a reporter how she felt being labeled as such. According to Reuters, she replied:
"Every time you see a journalist that calls me a punk rocker, it's because they don't have the imagination or the professional intelligence or the curiosity or see the full breadth of what I've done."
Director Sebring clearly doesn't make that mistake, offering a nuanced portrayal of the Horses artist:
Sebring captures a touching visit to her parents, concert footage old and new, Smith at protest rallies and on trips to Japan and Jerusalem, backstage preparations, reflections alone in her chaotic apartment and visits to friends' graves.
Death looms throughout the one hour, 50-minute film, but with little trace of morbidity. At one point Smith pours the ashes of a friend into her palm and at another speaks movingly about her brother and how his death affected her.
"I regularly visit graves," Smith told reporters. "Tomorrow, I'm going to visit Bertolt Brecht's grave. I like going to visit people's graves—I find it comforting. I know so many people who are gone, I like the proximity of something of them there."