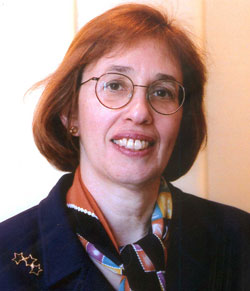 Linda Greenhouse, the Pulitzer-winning diviner of the inner workings of the Supreme Court and one of the great New York Times institutions, has asked to leave the paper under a voluntary buyout program.
"For 30 years, my internal clock has been set to the Supreme Court's calendar, but the buyout got my attention and it's a really good deal," she said in an interview with Media Mob last night.
The Times announced on Valentine's Day that 100 newsroom staffers would lose their job, and they'd begin the painful process by offering buyouts. The first deadline to volunteer for a buyout is on March 5 and Ms. Greenhouse has applied. (The Associated Press reported it last evening here.)
The buyout should be a good one—it's a two-year-salary plus a bonus since she's been at the Times for more than 35 years (she started there in 1968).
All in all, she said it would be about a $300,000 payoff (she makes $140,000 a year).
She was planning to retire in three years anyway, so when "someone puts two years worth of pay on the table, you have to think 'How much do I love my job?"
Just the same, Ms. Greenhouse said she loved it very much. She started as the paper's Supreme Court reporter in 1978 after a stint on metro and a quick one-year tour at Yale Law School that earned her a master's and the necessary credentials to run the beat.
She worked the Supreme Court job, took a small break in 1985 for maternity leave, returned as a Congressional reporter and then took the Court beat up again in 1988, and has been translating judicial decisions for us ever since.
When I asked her about her favorite story she said she didn't "play" like that, but then she 'fessed up.
On that fateful December night in 2000, when Bush v. Gore was decided, Ms. Greenhouse waited patiently in line in the Supreme Court press room all day. At a little after 10 p.m., when copies of the decision were finally handed out, she grabbed her copy and headed straight for a cab. Back at 229 West 43rd Street no one could make sense of it and TV reporters had already started announcing that Gore was victorious and a recount was headed back to Florida.
The Supreme Court didn't offer the handy guide that it normally does—the decision wasn't signed so absent was a small summary with a vote count as it does for most decisions—so reporters were actually forced to read the thing. While on a cab to the Washington bureau, Joseph Lelyveld had an open phone line for her and said, "We're confused over here. Can you make sense of this?"
She had read a few paragraphs and it was pretty clear, even if the fine details weren't.
"It's obvious—it's 5-4, it's over, Bush wins."
"Okay," he said back. "You have 10 minutes to write it."
Here's what she came up with.
The Supreme Court beat isn't an entirely normal one at the paper, or anywhere. She said she rarely spoke to Supreme Court justices off the record to get an understanding of the inner workings of the court, and their law clerks had far too much to lose to spend time on the phone with reporters. It was a beat where reporters judged their subjects purely on the merits: what they wrote, what they said.
"What I'll miss is the daily emergence in the work of the court," she said last night. "I do intend to keep following the court and I think nothing really takes the place of being there every day and digging through the pile of briefs and really knowing everything that there is to know about a case."
She said she wouldn't disappear when she retired and had a few things lined up, though it's mostly academic work, which she actually really loves. One piece will be for a journal named Constitutional Commentary.
"I'm not going to disappear. I'm going to keep writing and thinking and talking about Supreme Court," she said.