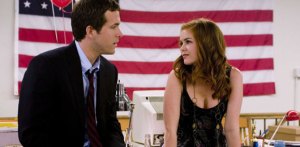 DEFINITELY, MAYBE
RUNNING TIME 105 minutes
WRITTEN AND DIRECTED BY Adam Brooks
STARRING Ryan Reynolds, Abigail Breslin, Elizabeth Banks, Isla Fisher, Rachel Weisz
Be grateful for small favors. The folks at Universal have, believe it or not, sent disillusioned moviegoers fed up with violence and gibberish the perfect antidote to depression—a heart-shaped valentine with charm, humor and intelligence that actually makes you feel good about the world. Definitely, Maybe is a romantic comedy you don't have to feel embarrassed to embrace. It chronicles several years in the lives of a group of the very best examples of bright, buffed and idealistic 30-somethings grappling with careers, relationships, commitments and social changes, coming in and out of each other's lives in times of stress and need and redefining the true nature of friendship and love.
Will, played in a breakthrough performance by the impossibly handsome Ryan Reynolds, is an advertising executive who has recently joined the divorce statistics. One night his precocious 10-year-old daughter, Maya (Abigail Breslin from Little Miss Sunshine), who has just been alerted to the confusions of sex education in class by one of her progressive school teachers, starts quizzing Dad about his love life before marriage. How did he meet her mom and how did he fall in love and "tell me everything!" Unable to get her to sleep, Will reluctantly tells his story, beginning with his arrival in New York from Madison, Wis., to work on Bill Clinton's 1992 presidential campaign and continuing to the present; the audience lives through all 16 years of it. In his fledgling days as a dedicated political activist, in addition to filling Clinton campaign headquarters with toilet paper, Will learned about justice, liberal causes and big-time politics. He also awakened to the promise, thrill and heartbreak of three very different love affairs. Changing names to protect the innocent, Will leaves it up to Maya, already intrigued beyond words, to decide which one of the girls we meet in the flashbacks became her mother. The movie is almost two hours long, but I don't think you'll mind the length. The people are so attractive, the issues they face are so vital and the situations so fresh and believable that the time passes like the second hand on a New York clock.
Meet blond Emily (gorgeous Elizabeth Banks), the college sweetheart and girl next door who follows Will to New York and finds her own niche in the city's competitive pace. Then April (Isla Fisher), the exasperating, apolitical and always confrontational redhead who runs the copy machine, plays Kurt Cobain and haunts second-hand book stores for the lost copy of Jane Eyre her father bought and inscribed for her 13th birthday, a few weeks before he died. And third, there is the alluring brunette Summer (Rachel Weisz), a sexually liberated radical and ambitious, muckraking journalist who is having an affair with her thesis adviser, an eccentric, gray-bearded author old enough to be her grandfather, played with edgy, bemused cynicism by Kevin Kline. He's the most colorful character Will meets as a new immigrant to the canyons of Manhattan, and also has the best lines. Will: "I hear you're dating a sophomore now." Kline: "No, two freshmen—which, on a good day, add up to a sophomore."
Will loves Summer, but she writes an article for New York magazine that brings down the politician Will works for as a speechwriter, costing him his job, his girl and all of his friends. April is the one true friend and loyal confidante who always arrives to pick up the pieces, but she secretly wants to be the girlfriend. And the irresistible Emily didn't come all the way from Wisconsin just to mix martinis. Which one does Will marry, and which one does he really love unconditionally? Which one is Maya's mother? While she solves the mystery, the people in her dad's story all live, love, learn, grow and mature. No spoilers here, but by the end, it's the child's turn to play Cupid. The proceedings are punctuated by the present-day interjections of an adolescent senior citizen: "I can't believe you smoked, and drank … and were such a slut."
Except for the versatile and hugely talented Kevin Kline, nobody connected with Definitely, Maybe has had much previous success in movies, but Ryan Reynolds has learned a lot about acting since dressing up junk like National Lampoon's Van Wilder, Smokin' Aces and the Amityville Horror remake. For the first time, he adds up to more than just another pretty face. The three women are as superb as they are beautiful. And writer-director Adam Brooks, who polluted the ozone with Bridget Jones: The Edge of Reason, proves he might have a way with actors after all. The 1990's sets, taxis and costumes sing out with authenticity, the dialogue pokes the funny bone without gags and punch lines, and New York exudes the aura of a city where it is still possible to fall in love. Nothing maybe about Definitely, Maybe. It's definitely a valentine worth keeping.