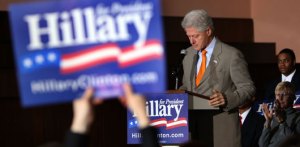 Claiming Hillary Clinton has been the underdog in the race for the Democratic nomination since losing Iowa, Bill Clinton called on her supporters today to send in more donations to fuel the final sprints of an unexpectedly marathon campaign.
"She has basically been running as the underdog ever since Iowa," said the former President, who was speaking to a small group of Clinton supporters in the Richmond Convention Center Saturday afternoon.
Without directly mentioning the $5 million loan Clinton gave her campaign this month, he said that after his wife's victories in major states on Tuesday, "People said, well, we got to help her."
"She had raised on the Internet, and through small contributions, in the last couple of days $10 million," he continued. To prove his point, he read what he said were emails sent to the campaign with those small contributions.
"I never donated more than 20 bucks because frankly I am in-debt public school teacher," Clinton read. "This is too important a time to have you run out of money," said Clinton, reading another letter.
"Listen to this," said Clinton, moving on to another email. "We could go out to eat tonight but instead we will stay at home and give the money to Hillary's campaign." And, "Listen to this one, my small amount of money I have to pay medical bills and the rent," Clinton read. "Blog away because we too have a passionate group."
After this gentle pitch for more money, Clinton paid his usual compliments to his wife's past and present rivals, ("Senator Edwards ran a great campaign," he said) before arguing that it was time, as he put it, "to decide Who. Will. Be. The. Best. President" and "Not all experience is equal and not all experience is against change."
The crowd, mostly white and middle-aged, nodded approvingly as Clinton called the audience a model of integration. "Look around here," he said, "We're all united, no matter race gender or age."
Clinton, who said "the last thing I want to say" nearly a half-dozen times in the nearly hour-long speech, briefly criticized Barack Obama's health care plan, saying, "22 million people won't be insured," because "if you don't insure everybody you will never get a hold of cost."
Other than that, he was entirely positive, offering explanations of his wife's policies on education, job creation, protecting the environment ("lithium batteries") and government reform. Tacitly acknowledging the very tough odds his wife faces against Obama in Virgina's primary, as well as the other mid-Atlantic election on Tuesday, the former president started his speech by saying "I hope I can persuade you."
Clinton was introduced by Dolores McQuinn, a black Richmond city councilwoman, who declared herself "unapologetic" for her support for Clinton. She said Clinton's election would give women the opportunity to tell their "daughter, granddaughter and great granddaughter, you can become President of the United States."
Attempts by reporters to speak at the rope line with the former President, who has been much quieter since making a series of controversial comments during the South Carolina primary, were shut down by campaign workers. "With her you can go all the way up," said one campaign staffer. "But not with him. It's the Service."