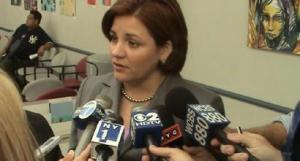 With New Yorkers keeping a tighter grip on their purse strings these days, public officials and businesses are bracing for a steep drop in consumer spending. Among the plans to jolt the sputtering economy was City Council Speaker Christine Quinn's proposal in her State of the City address yesterday to suspend the 8.375 percent sales tax for one week in the spring when federal rebate checks are delivered.
"We have every reason to believe that this 8 percent solution, given its timing, will be ever more successful at priming the consumer pump," Ms. Quinn said in her address.
New York's retail and entertainment sectors will presumably welcome the boost (after all, euro-wielding tourists can only carry them so far), but with city agencies strapped for cash too these days, Mayor Bloomberg did not immediately endorse the proposed legislation, which would cost the city about $38 billion in lost revenues.
Ms. Quinn said she plans to send the bill to the state Legislature and Governor Spitzer for approval. In light of Mr. Spitzer's proposal to require all companies to charge sales tax on out-of-state purchases shipped to New York yesterday (to the horror of Amazon.com), one would expect a lukewarm response from Albany as well.
The Independent Budget Office would probably advise all state and city officials to be a little more creative in their efforts to balance the budget. Last year they wrote a report on alternative sources of revenue, the most notable of which are what the CityRoom blog dubbed "soak-the-rich" measures.
Imposing a tax on cosmetic procedures, for instance, could bring in $65 million annually, but the report notes such a move could raise the ire of those who consider botox treatments, facelifts, and the like not as luxuries but as "vital to improving self-esteem."
Other ideas floated by the office include imposing a 1 percent tax on renters who pay more than $3,000 a month and a tax on dry cleaning, laundering, and tailoring which could net the city $24.2 million and $40 million annually.
We've got a call into Mayor Bloomberg's office to gauge his stance on Ms. Quinn's proposal and the less orthodox reccomendations of the Indenpendent Budget Office.
Hmmmm…..