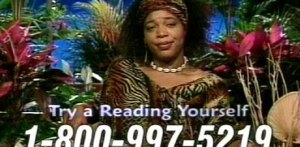 Back in 2002, when Steven Feder's "Miss Cleo" empire was crumbling under federal lawsuits, the man known as the Psychic Hotline King probably foresaw that things would shine brightly for him again in a few years.
Late last month, eons after his Psychic Readers Network was brought down (and he agreed to forgive $500 million in customer bills), Mr. Feder, plus his partner, Lou Thomas Trosclair, sold off for a massive profit the Time Warner Center apartment that they bought from Ricky Martin.
Though they paid just $9.75 million in September 2006 for the 3,050-square-foot space, they sold it for $15.85 million to a neighbor. Marketing photographs show an encased Warhol Brillo box, and a canvas that may or may not be one of Yves Klein's I.K.B. blue pieces.
Plus, according to the listing, they bought "additional space from the building" to add a formal foyer to the apartment. Better yet, their master bathroom has "an enormous soaking tub, a large glass shower, double sinks and separate water closet and bidet." Nevertheless, one broker said that they had once wanted to buy up their neighboring unit, though the lady next door wouldn't sell.
So they did the next best thing. City records filed last week show that they bought a combined-unit apartment exactly 10 floors up, paying $24.48 million. Both deals were done with anonymous limited partnerships: Mr. Feder's, called Defer LP, goes back to at least one S.E.C. filing for his "900 Pay-Per-Call Psychic Services."
But what goes around comes around! Their seller at the $24.48 million apartment, listed only as Glenlion Inc., paid just $12.5 million for the spread in 2006.
Back around 2002, Mr. Feder had worse woes: Miss Cleo, the purportedly Jamaican star of his billion-dollar hotline, was exposed as a Californian named Ms. Harris; a Federal Trade Commission investigation found that six million people made calls for free readings and were charged an average of $60; worse still, he put his waterfront Florida mansion, with wet bar and central vacuum system, on the market.
By 2006 he and Mr. Trosclair were back on top, reportedly spending about $2.6 million (less than half the original asking price) on a 1740's house in Roxbury, Conn. Calls there were unreturned.